Milan and the Lion of Flanders
Belgian riders have always been known for their strength and toughness. Cyrille Van Hauwaert (Bel), after riding his bicycle from Belgium to the start in Milan, raced through miserable weather with gusty winds, snow and freezing rain from start to finish.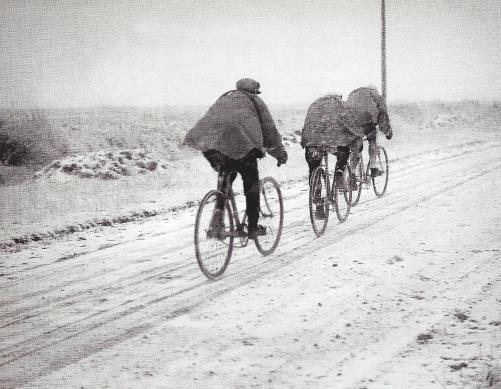 The horrible state of the roads in 1908 also contributed to the harshness of this year's race. Multiple punctures and mechanical failures happened as the peloton was drastically reduced.

An elite group contenders broke away on the climb of the Passo del Turchino. Belgian Cyrille Van Hauwaert, led Italians Giovanni Rossignoli and Carlo Galetti, Frenchmen André Pottier and Henri Lignon over the summit.

Riding along the Mediterranean coast Van Hauwaert destroyed his last companion Lignon in Finale Ligure 85 kms. from the finish in San Remo. On the climb of the Capo Berta Van Hauwaert jumped away from his teammate Lignon, who immediately abandoned the race. The inspired Belgian rode solo to the finish to gain the M-SR victory.
From the chase group Italian Luigi Ganna, André Trousselier and Augustin Ringeval set a hard pace. Late in the race Ganna began to close on the leader, but Van Hauwaert held onto his lead and rode into the finish in San Remo for a 3 min. 30 sec. victory.
SPECIAL NOTE:Cyrille Van Hauwaert continued his brilliant racing 2 weeks later by winning the "Queen of the Classics" Paris-Roubaix.
M-SR April 5, 1908
283.4 Km
1. Cyrille VAN HAUWAERT (Bel) 11h33'00"
2. Luigi Ganna (Ita) +3'30"
3. Andre Pottier (Fra) +6'25"
Starters: 48
Finishers: 14
Average Speed: 24.547 km/h
Return to the Timeline ToC
Return to the Race Snippets ToC