Frenchman Wins 1st Milan-San Remo
Sunday, April 14, 1907 thirty-three riders came to the start line on Pedesimo Piazzale in Milan. The rules were strict: no supplies or other accessories, no changing of bicycles, and no technical team support. Most of the top Italian riders entered but in order to make this event international in scope, Costamagna contracted with French stars Lucien Petit-Breton (riding for Bianchi) and Gustave Garrigou to compete.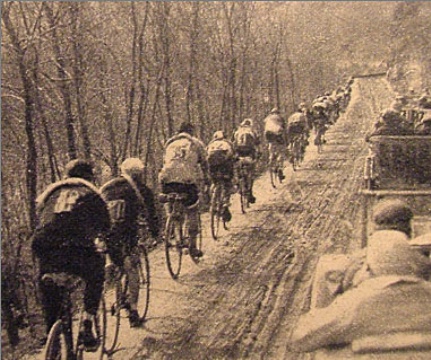 Lucien Petit-Breton with the help of Italian teammate Giovanni Gerbi soloed away in the closing kilometers and won the first ever Milan-San Remo road race.
SPECIAL NOTE: Italian Giovanni "Red Devil" Gerbi had a dubious reputation of "do anything to win". When Petit-Breton opened the sprint from 500 meters out, Gerbi, the Frenchman's Bianchi teammate, grabbed Gustave Garrigou (Peugeot-Wolber) jersey to disrupt the sprint. Petit-Breton won the race with Gerbi second. A huge protest and a fist fight led the race officials, several days later, to relegate Gerbi to third place.
The Classic known as "La Primavera" was born! Through the remainder of the 20th Century Milan-San Remo gave the cycling World great stories of individual effort and gained the distinction as one of the "5 Monuments of Cycling."
M-SR April 14, 1907
288 Km
1. Lucien PETIT-BRETON (Fra) 11h04'15"
2. Gustave Garrigou (Fra) +1'00"
3. Giovanni Gerbi (Ita) (relegated for interference)
Starters: 33
Finishers: 14
Average Speed: 26.014 km/h
Return to the Timeline ToC
Return to the Race Snippets ToC