Mara Victory after Piemontesi's Relegation
The 26th edition of the Giro di Lombardia was on October 26, 1930.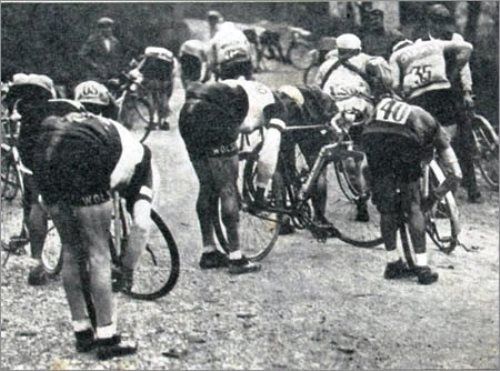 The peloton changing to climbing gears at the foot of the Colle del Ghisallo
A 20 rider peloton came into the finish in Milan to contest the sprint. Domenico Piemontesi won the eventful sprint and finished first, but was relegated to 4th place for grabbing Antonio Negrini's shoulder in the sprint. Milan-San Remo 1930 winner Michele Mara sprinted in ahead of Campionissimo Alfredo Binda and Learco Guerro for the 1930 Giro di Lombardia victory.
SPECIAL NOTE: Following Costante Girardengo in 1921, Michele Mara's 1930 Giro di Lombardia victory earned the Italian a very difficult Milan-San Remo (early season) / Lombardia (late season) double victory in the same year.
GdL October 26, 1930
234 Km, Milan-Milan
1. Michele MARA (Ita) 7h40'00"
2. Alfredo Binda (Ita)
3. Learco Guerra (Ita)
Starters: 124
Finishers: 46
Average Speed: 30.913 km/h
Return to the Timeline ToC
Return to the Race Snippets ToC