Young Binda Wins Lombardia
After a grand win in the Giro d'Italia earlier in 1925, Binda capped a very successful season in the "Race of the Falling Leaves". Talented 23 year old Alfredo Binda broke away and scored his first victory in one of cycling's 5-Monuments the 1925 Giro di Lombardia.
Binda rode steadily away from the pack on the Colle del Ghisallo and gained a 2 minute gap. Still a long ways from Milan Binda waited for the diminished pack. At the junction Costante Girardengo attacked hard. Quickly Binda bridge the gap and the 'final selection' was established.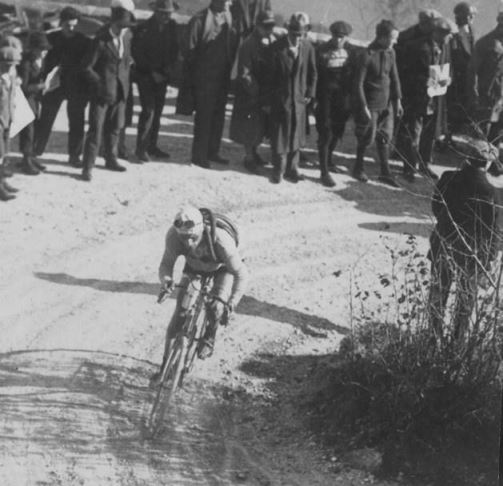 Binda on the Colle del Ghisallo
Binda dropped a tiring Girardengo at the 55 kms to go mark. Binda rolled into Milan nearly 7 minutes ahead of Girardengo in second place. Alfredo Binda gained his first Giro di Lombardia victory.
SPECIAL NOTE: Costante Girardengo's second place finish was nullified after officials found he had failed to sign the race control sheet in Grantola.
GdL November 4, 1925
251.4 Km, Milan-Milan
1. Alfredo BINDA (Ita) 8h43'40"
2. Battista Giuntelli (Ita) +8'20"
3. Ermanno Vallazza (Ita) +10'30"
Starters: 79
Finishers: 46
Average Speed: 28.804 km/h
Return to the Timeline ToC
Return to the Race Snippets ToC