An Ardennes Double
Italian Moreno Argentin started the 1991 Liege-Bastogne-Liege with great form after winning the mid-week Fleche-Wallone. Having won the L-B-L on three previous editions Argentin set his sights on the tough "Ardennes Double".
A brutal early pace with several crashes thinned the peloton as the race turned in Bastogne for the tough return trip to Liege. A huge Belgian crowd was present on every climb waiting for the sight of their national champion Claude Criquielion. The Belgian Jersey was prominent at the front of a dwindling peloton.
A brutally fast pace on the Cote de Wanne hurt the peloton, Criquielion's tempo shattered the bunch on the short, steep Cote des Hezalles. The lead group of twenty riders watched as Argentin and Criquielion waged a war of nerves.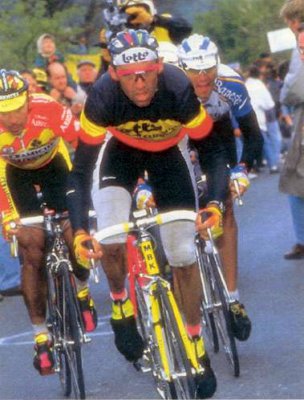 Belgian Champion Claude Criquielion setting the tempo
The war was taking its toll. The lead group was down to 10 riders at the foot of the Cote de Lorce. Argentin's Ariosta teammate Rolf Sorensen led the group and controlled the breakaway over the La Redoute.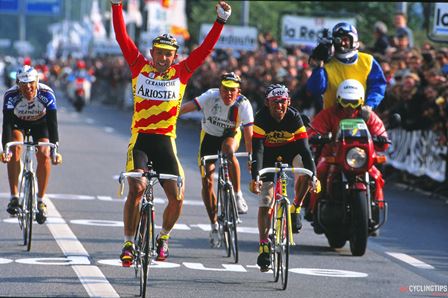 Sorensen took control again on the streets of Liege. Driving the pace Sorensen led out the sprint for Argentin. Criquielion jumped but Argentin answered and easily came around the Belgian for the L-B-L victory.
L-B-L April 21, 1991
267 Km
1. Moreno ARGENTIN (Ita) 7h15'00"
2. Claude Criquielion (Bel)
3. Rolf Sorensen (Den)
Starters: 196
Finishers: 115
Average Speed: 36.827 km/h
Fleche Wallone April 17, 1991
203 Km [ Spa - Huy ]
1. Moreno ARGENTIN (Ita) 5h13'14"
2. Claude Criquielion (Bel) +2'20"
3.Claudio Chiappucci (Ita) +2'31"
Starters: 191
Finishers: 85
Average Speed: 38.880 km/h
Return to the Timeline ToC
Return to the Race Snippets ToC