By Barry Boyce, CyclingRevealed Historian
Liege-Bastogne-Liege 1966
Aging French superstar and five-time Tour de France champion Jacques Anquetil (Ford France-Hutchinson) rode brilliantly all day and used the steep climb of the Cote de la Bouquette to drop all contenders.
Riding in his noted time trial mode Anquetil left everyone behind and rode into Liege to win the 1966 Liege-Bastogne-Liege by nearly 5 minutes.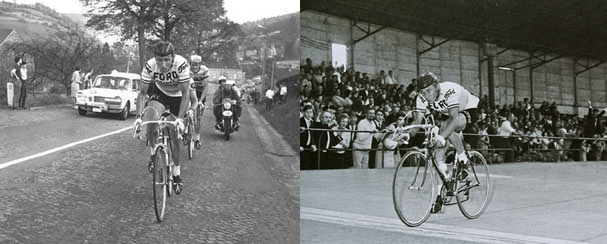 Jacques Anquetil
L-B-L May 2, 1966
253 Km
1. Jacques ANQUIETIL (Fra) 6h59'45"
2. Victor van Schil (Bel) +4'53"
3. Willy In't Ven (Bel)
Starters: 87
Finishers: 28
Average Speed: 36.160 km/h
Return to the Timeline ToC
Return to the Race Snippets ToC