By Barry Boyce, CyclingRevealed Historian
1st Edition of "Le Doyenne" Goes to Leon Houa
The oldest of the "5 monuments of cycling" has appeared on the racing calendar since 1892. Liege-Bastogne-Liege (La Doyanne, the old lady) will progress slowly through nearly three decades to obtain its status as a great international racing classic. The 1st edition was held for amateurs only and came directly from the successes of Bordeaux-Paris (May 23, 1891) and Paris-Brest-Paris (September 26, 1891). Heavy Club Inhabitant of Liège and Liege Cyclist' S Union (LCU) decide to set up the amateur race as a test for the proposed Liege-Paris-Liege. That marathon of a race would never get off the ground.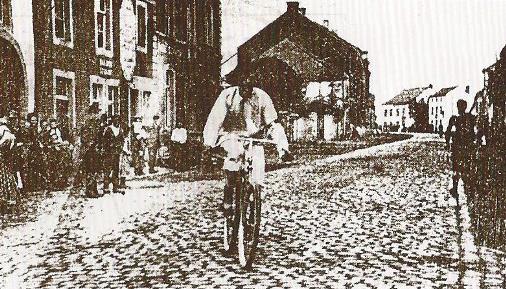 The first edition of L-B-L began in the center of Liege with 33 riders with their derny pacers coming to the start line. Belgian Leon Houa dominated the race, slowly dropping breakaway partners Leon Lhoest and Louis Rasquinet before the turn-around at Bastogne. Houa finished the race course in 10 hours, 48 minutes and 36 seconds to become the first Liege-Bastogne-Liege champion.
L-B-L May 29, 1892
250 Km
1. Leon Houa (Bel) 10h48'36"
2. Leon Lhoest (Bel) +22'00"
3. Louis Rasquinet (Bel) +44'00"
Starters: 33 (with pacers)
Average Speed: 23.322 km/h
Return to the Timeline ToC
Return to the Race Snippets ToC