Merckx's Early Attack
World Champion Eddy Merckx attacked on the Oude Kwaremont with 104 kms to go and escaped the peloton. Frans Verbeeck joined the 'Cannibal' as the lead passed 1 minute. When the road flattened the duo extended their lead to over 2 minutes.
Over the Muur de Geraardsbergen with 19 kms to the finish Merckx and Verbeeck held a steady 3 minute advantage. An elite group led by Roger de Vlaeminck was chasing hard but not closing.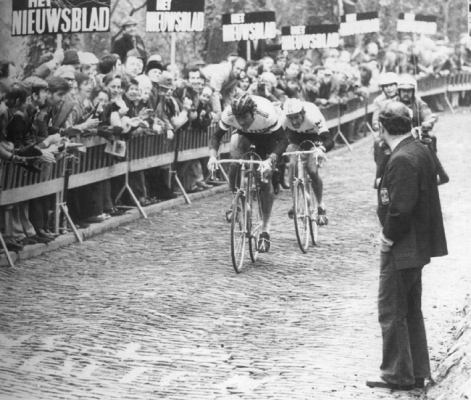 Merckx (L) leads Verbeeck (R) on the Muur
Entering the 5 km closing circuit of Meerbeke Merckx rode Verbeeck off his wheel and soloed to the victory.
Flanders April 6, 1975
255 Km, Gent to Meerbeke/Ninove
1. Eddy MERCKX (Bel) 6h16'00"
2. Frans Verbeeck (Bel) +30"
3. Marc Demeyer (Bel) + 5'02"
Starters: 179
Finishers: 50
Average Speed: 40.690 km/h
Return to the Timeline ToC
Return to the Race Snippets ToC