Fireworks on the MUUR!
"Fireworks" usually happen of the Muur de Geraardsbergen. This year was no exception. Ward Sels, Raymond Poulidor, and Eddy Merckx broke away over the Muur, but the presents of Merckx set off alarms and the peloton's chase was hard. The elites re-grouped at the front of the race.
Numerous attacks kept the pace high as the group flew into the finish in Merelbeke. The sprint opened up early with the elites of the race jockeying for position. Walter Godefroot came around German sprinter Rudi Altig and Dutchman Jan Janssen for the victory.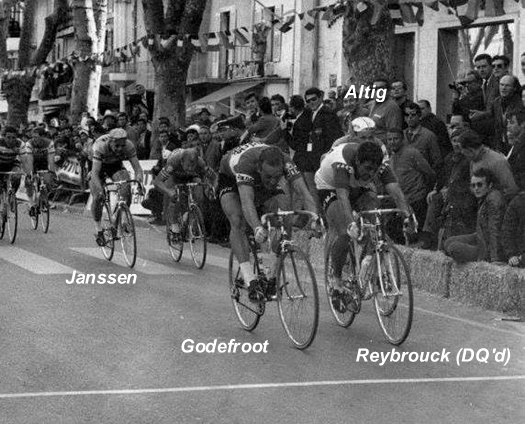 SPECIAL NOTE: Guido Reybrouck (Bel) crossed the finish in second place but was disqualified after positive doping control test.
Flanders March 30, 1968
249 Km, Gent to Merelbeke
1. Walter GODEFROOT (Bel) 5h52'00"
2. Rudi Altig (Ger)
3. Jan Janssen (Ned)
Starters: 175
Finishers: 82
Average Speed: 42.442 km/h
Return to the Timeline ToC
Return to the Race Snippets ToC