By Barry Boyce CyclingRevealed Historian
Merckx Misses the Move
Neil Fore, Tour of Flanders champion in 1963, made the early attack with Willy Monte (Bel) and Barry Hoban (GBr). Merckx took up the chase and split the peloton on the Muur de Geraardsbergen.

The lead trio held a dwindling lead going in the closing kilometers into Merelbeke. The Merckx group that caught the breakaway included teammates Felice Gimondi (Ita) and Dino Zandegu (Ita). After a series of attacks Merckx settled on marking Gimondi.

The decisive move came from Fore. Only 34 year old Italian Dino Zandegu could bridge the gap to Fore with 21 year old Belgian Eddy Merckx missing the move. Merckx tried everything to cross the gap but couldn't shake Gimondi.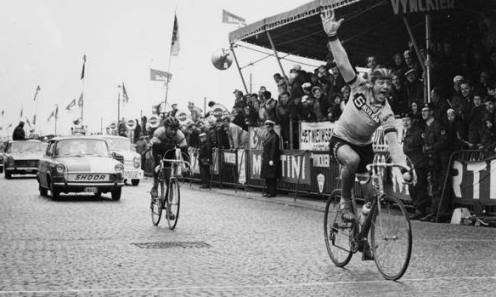 Zandegu ahead of Fore
Dino Zandegu powered past Fore in the sprint to win his first Major Classic.
Flanders April 2, 1967
245 Km, Gent to Merelbeke
1. Dino ZANDEGU (Ita) 6h16'00"
2. Noel Fore (Bel)
3. Eddy Merckx (Bel) +20"
Starters: 139
Finishers: 92
Average Speed: 39.103 km/h
Return to the Timeline ToC
Return to the Race Snippets ToC