Bobet Sails Over the Stars
All the stars of cycling came to the Tour of Flanders in 1955. There were 203 starters on a cold but dry day in Belgium. Talented Frenchman Louison Bobet returned with unfinished business.
Rik Van Steenbergen, looking for his first victory of the year, attacked over the climb of the Kruisberg shattering the peloton. World champion Louison Bobet was in a hard chasing group over 3 minutes behind.
The chase began to take back time on the leaders and a level railroad crossing slowed the leaders. The four leaders ducked under the closed crossing and continued.
By the steep climb of the Muur de Geraardsbergen the front groups came back together. Bobet's Mercier teammate attcked the climb.
The elites of the race flew through the finishing circuits when Van Steenbergen threw caution to the wind and led out the sprint from 500 meters. Bobet and Koblet held his wheel and jumped past the tiring Belgian.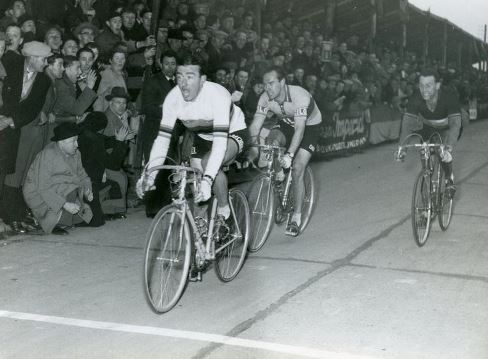 Bobet (L) beat Koblet (C) and Van Steenbergen (R)
Louison Bobet took the victory with Koblet second and a disappointed Van Steenbergen third.
SPECIAL NOTE: Fifth place finisher, Karel Debaere, lodged a protest over the illegal crossing of the level railroad crossing. After race director Karel Van Wijnendaele intervened race officials denied the protest. They justified the infraction by saying that the ducking under the level crossing was illegal in Belgium but legal in other countries. Since there was no 'moto-marshal' present to enforce the rule the protest was denied.
Flanders March 27, 1955
263 Km, Gent to Wetteren
1. Louison BOBET (Fra) 7h27'00"
2. Hugo Koblet (Sui)
3. Rik Van Steenbergen (Bel)
Starters: 203
Finishers: 47
Average Speed: 35.300 km/h
Return to the Timeline ToC
Return to the Race Snippets ToC