CyclingRevealed's First Impressions '08
Stage 2 - (Sunday) July 6th, Auray to Saint Brieuc, 164.5 km Flat Stage
My First Hero

Quite rightly many race fans today will be remembering the astonishing career of Bernard Hinault who was born just 5kms from Saint Brieuc. In fact as he organises the podium award ceremony this 'Son of Brittany' will probably get the biggest cheer of all.
For myself and many others, Saint Brieuc also kindles memories of another fabulous champion of the past. It was here that Tom Simpson set up base in 1959 in his quest to pursue the professional cycle racing dream. It did not take him long to realise that dream as within months of his arrival four important wins in the area helped him to secure his first pro contract with the St Raphael team. By chance a young English woman was also working in Saint Brieuc as a nanny. She was introduced to Tom and soon thereafter became his wife.
By the time I started to get serious with cycling in the early 1960's Tom was already a great champion. For myself and many other English racers he was both our role model and hero. Even today over 40 years later I feel great sadness at Tom's tragic demise on Mont Ventoux in 1967.
Read a CyclingRevealed Feature Article: The Flanders Lion Tamer
A Wolf in Sheep's Clothing
Again today Brittany 's bucolic countryside masks numerous little climbs as well as the constant buffeting crosswinds blowing in from the Atlantic . The riders looking to win today, or harboring long-term GC aspirations, will need to be alert. Attacks are bound to happen on the Category 3 Mur-de-Bretagne at 92kms and the technical lead in to Saint Brieuc with another uphill finish could cause some interesting splits in the field and maybe another Valverde win. Hopefully the riders know their Tour history and will approach these two obstacles with respect.
In 1947, and with just two days to go, René Vietto was leading the Tour and anticipating glory in Paris . But that year stage 19 was a (inconceivable today) 139km time trial. Vietto completely cracked on the Mur-de-Bretagne and eventually lost over six minutes to Pierre Brambilla who went on to claim the Yellow Jersey.
The story was somewhat different in 1995 when the descent into Saint Brieuc saw the big favorite for Yellow, Chris Boardman, slide out at great speed. On that day it was raining hard and Boardman ended up in the hospital with a double fracture of the ankle. Again this was a time trial, but unlike 1947 event, this was the 7.3km Prologue Time Trial.
Head Bangers
Just about every rider had dreams of the Yellow Jersey yesterday and as a result the stage was fast, furious and towards the finish, dangerous with many crashes. With a route very similar to that of yesterday (four categorised climbs, an uphill finish and constant side winds from the Atlantic ) one would expect the peloton to be weary and somewhat more conservative today.
But if nothing else, racing cyclists are truly a collection of head bangers. Caution rarely figures in their vocabulary. Right from the gun riders scampered up the road like rats up a drain pipe. Jens Voight was there (who else?!!) along with a few other notable riders. But the peloton was having none of it. However there was a spirited battle over the first climb of the day at 23kms (Côte de Bieuzy-Lanvaux, Category 4) which was claimed by Sylvain Chavanel. He was closely followed by Thomas Voeckler defending his Polka Dot Jersey from Björn Schröder who was right on his wheel. Voeckler and Schröder were both in yesterday's long break, and seem destined to scrap like kids for quite some time as they struggle to secure the climbers jersey.

Polka Dot Jersey Thomas Voeckler leads Sylvain Chavanel [Image ©: www.gazzetta.it /AP]
Voeckler Again
Since his 2004 Yellow Jersey escapade little Thomas Voeckler has established a reputation as a gutsy and very tenacious rider. Today he really wanted to hang on to that Polka Dot Jersey. Over the top of the first Category 4 climb he maintained the momentum along with Chavanel. Now it was serious work as the two Frenchmen set about consolidating their lead. They peaked with about 65kms covered. Six and a half minutes was enough for the peloton in general, and Valverde in particular who is looking to hang on to the Golden Fleece.
Every now and then the grey sky started to release a few drops of rain. And the outlook for some serious rain was very high. That (Boardman) descent into Saint Brieuc will need to be raced with respect! The peloton, naturally, had little respect for the two up front as they collectively worked to eliminate their time advantage.
Then There were Four
Over the top of the Mur-de-Bretagne, Voeckler added yet more mountain points to his growing tally. The race was now about 70kms from Saint Brieuc and the bunch (getting a drenching under an intense rain shower) was about 3.5 minutes behind the leaders who were still in the dry! Just before the summit Christophe Moreau and David Lelay (both Agritubel) attacked the peloton. This was an unusual move but it was basically ignored by the bunch and the Agritubel tandem simply rode away.
When the two lads up front got wind of this news they started to free-wheel and wait for the welcome reinforcements. The junction was made with 56kms remaining and the peloton now about 3 minutes back.
Spanish Armada
As good Tour protocol dictates, the race leader's team of Caisse d'Epargne had spent all day carrying the burden of driving the peloton.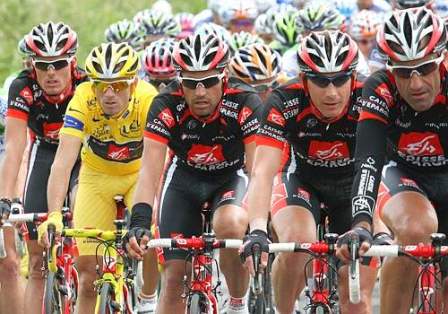 Spanish Armada protects the race leader [Image ©: www.gazzetta.it /AP]
Interestingly the Euskaltel Euskadi team were massed just behind their hard working Spanish countrymen. In days past the Spanish Armada sailed up the English Channel only to be thwarted by Sir Francis Drake and his little ships. Today the Armada was cruising across Brittany trying to chase down four Frenchmen.
The French road side fans this were elated. It has been a very long time since French riders were able to dictate a Tour stage like this. Whatever the outcome today this "fab four" would be the toast of France once the sun sets.
Unlike the days of Drake, this modern Armada had plenty of 'foreign' help. With Saint Brieuc looming just 20 kms away there were ample teams eyeing the stage win. Now only 1 minute ahead, a quick 'broadside' from the peloton would sink the break. However, powerful French unity within the four leaders manifested itself with a magnificent effort to claim stage victory. Behind them the bunch was in full cry but they were being matched at almost every pedal stroke by 'the fab four'.
Agony and Ecstasy
As we have been reporting all year, 2008 has been producing tremendous racing. The final kms into Saint Brieuc were classic. With about 2kms to go the killer climb to the finish saw the bunch close in on the leaders. One by one they quickly nailed 'the four', each with agonised looks on their faces, as they were trying to squeeze out one final effort to cheat the bunch.
Luckily the rain had been replaced by sun and the feared descent into town was relatively safe. On the climb to the line all hell broke loose. Cancellara tried one of his "Spartacus" specials but he was closed down by Pozzato who in turn was swamped by the rapidly diminishing bunch as it ripped itself to pieces.
Finally Norway's "God of Thunder", Thor Hushovd, lunged for the line where he held off Team Columbia's Kim Kirchen and Gerald Ciolek for his sixth career Tour stage win.

Stage winner Thor Hushovd (L) nips Kim Kirchen [Image ©: www.gazzetta.it / AP ]
Hushovd, who won the Green Points Jersey in 2005, is again targeting that prize. Today was the perfect way to stake his claim and over the line his look of ecstasy confirmed his feelings. Meanwhile Valverde finished close to Hushovd to retain his Yellow Jersey as Cadel Evans also made sure that he was nice and close to the Spaniard.
Today was a great day of classic Breton racing truly worthy of the Tour de France. But in spite of all the heroic action and excitement I did not forget Tom, my first hero.
Return to ToC >>> Previous Stage >>> Next Stage >>>