CyclingRevealed's First Impressions '08
Stage 1 - (Saturday) July 5th, Brest to Plumelec, 197.5 Km Flat Stage
Sons of Brittany
The Pride of France
When it comes to cycling, Brittany is to France as Flanders is to Belgium . This North West corner of France is steeped in cycling history dating back to the very earliest days of the sport. Young cyclists aspiring to a professional career will almost invariably spend time in either Brittany or Flanders to both learn their trade and to prove themselves to 'scouts' on the look out for new talent. Today Brittany is probably best known for its Grand-Prix de Plouay Ouest-France semi-classic which a few years ago had its course used for the World RR Championships.
| Peloton leaving Brest [Image ©: www.eurosport.com/AP] | TdF director Christian Prudhomme starts the 2008 TdF |
| --- | --- |
Sons of Brittany
The first great Breton champion was Lucien Petit-Breton who is remembered as a classics winner as well as a Tour winner. He won the very first Milan-San Remo in 1907 and he won the TdF in the same year and then again in 1908. It was not until 1947 that Brittany produced another Tour champion. Jean Robic was born in eastern France but lived most of his life in Brittany . A short and somewhat strange looking man, he was famous for the bulky leather crash helmet which seemed to be lodged on to his protruding ears. A famous quirk of his was to collect a lead water bottle at mountain summits to add extra weight (and thus more speed) for the long descents down to the valleys.
Louisan Bobet was a prodigious classics winner as well as a Grand Tour Champion. Hailing from the small community of Saint-Méen-le-Grand (which today still only has a population of around 4,000), Bobet is a legend among champions. He was the first rider to win three Tours in succession (1953, 54, 55). During his racing years he was well known and well respected for his innovations in training, diet and recuperation.
"The Badger", as Bernard Hinault was known was the consummate champion. His voracious appetite for victory led him to produce some of the greatest exploits in cycle racing history. Not least of these was his 1983 Liege-Bastogne-Liege victory which he won by over nine minutes having ridden a large part of the race alone and in near white out conditions of a horrendous blizzard. Born in the small village of Yffignac (about 5kms outside of tomorrows stage finish town of St Brieuc ), Hinault won just about every great race in the book. His Grand Tours tally is five TdF's, three Giro's and two Vuelta's. For some years now he has been working as an official for the Tour and most days will be seen on the podium orchestrating the awards proceedings.
A Break from Tradition
Since 1967 it has been tradition for the Tour to start with a lung-busting prologue time trial rarely longer than 5kms. Originally this was designed to identify the Yellow Jersey wearer for the first road stage. Today the Tour goes back to the heroic era long before aero this-and-that, carbon and race radios. Not only do we see the elimination of the prologue TT but, just like the old days, many stages start and finish this year in (or near) the same towns. The riders no doubt welcome the loss of long between-stage transfers but the price they pay is a very challenging Tour race route. Already today a brutal road stage awaits the riders. Four Category 4 climbs and numerous other energy sapping climbs are finished off with a nasty uphill finish.
The weather in this part of the world can be ugly as rain, wind and storms often sweep in from the Atlantic . Today however the riders were greeted with cloudy skies and brisk winds. Nothing more than showers looked to be possible but the final drag up to the finish in Plumelec would be straight into a head wind.
Opportunists
With the Astana team and therefore current Tour Champion Alberto Contador denied a start in this year's Tour, the race is wide open. For months 'experts' have been predicting the same names as potential winners including Cadel Evans, Alejandro Valverde and Denis Menchov as prime candidates. Many commentators, including myself, find these uninspiring names and as a result some lists of Yellow Jersey candidates are a dozen or more names long.
What this tells us is that we could well see a completely unexpected group of riders mount the final podium in Paris . The peloton as a whole is well aware of this situation and a huge number of riders will be looking to profit from this opportunity.
Sure enough just 17kms into the stage eight riders took flight and diligently set about establishing a solid lead. With a handful of intermediate sprints and four Category 4 climbs both the Green Jersey and the Polka Dot (climbers) jersey were up for grabs as well as the Yellow Jersey itself if they could get to Plumelec ahead of the peloton.
Amongst the group of 8 was the 'darling' of France , little Thomas Voeckler. Many will remember Voeckler from 2004 when he joined an 'opportunist break', gained significant time, and claimed the Yellow Jersey. With unbelievable tenacity (which captured the hearts of France) Voeckler defended his lead for ten days through the Pyrenees but finally succumbed to the Armstrong onslaught in the Alps.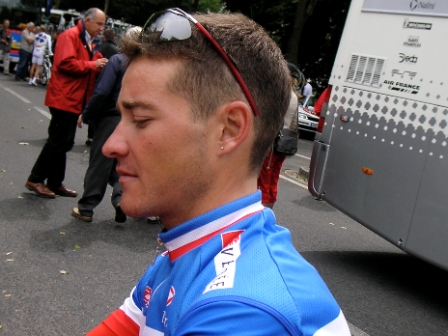 Always aggressive Thomas Voeckler [Image ©: CyclingRevealed.com]
Should Voeckler make it to Plumemlec and claim Yellow today then, as he showed in 2004, he can more than match Cadel Evans at the wheel sucking limpet game.
Having carved out a lead of over 7 minutes the more astute team managers were directing their teams to start hauling the break back. It took about 140kms of steady but persistent tempo riding to eliminate the break who were finally reeled in. However in a last ditch effort Lilian Jégou (Française des Jeux) and David De La Fuente (Saunier Duval-Scott) had bid the break farewell and were not captured until 7kms to go.
Suddenly it was all blood and guts as the peloton swooped into town at warp speed. Up the long climb to the finish the field disintegrated. Team Columbia (formerly High Road) were all over the front but then Stefan Schumacher (Gerolsteiner) took a flyer and looked to have it until Kim Kirchen caught him and left him for dead. Alejandro Valverde then shot away from the rapidly diminishing pack closed Kirchen down with incredible speed to take the win and with it the first Yellow Jersey.

First Yellow Jersey to Alessandro Valverde [Image ©: www.gazzetta.it/AP]
Just as the race finished the rain started. Were the heavens crying with frustration at Valverde's move? For a primary Tour contender this could prove to be an extremely dumb victory as he now sets his team up for a huge amount of work to defend the Jersey . There are still 3 long weeks to Paris!
Of the 8 opportunists in today's break Thomas Voeckler (Bouygues Telecom) came out with the biggest reward. Voeckler focussed on the climbs and now wears the Polka Dot Jersey while Valverde also nabbed the Green Points Jersey by virtue of his stage win
Today eight Breton riders started the Tour: Crédit Agricole; Christophe Le Mével , Française des Jeux; Benoit Vaugrenard , Française des Jeux; Yoann Le Boulange, Française des Jeux; Arnaud Gérerad , Française des Jeux; Lilian Jégou and Agritubel; David Le Lay.
Although none of them produced the win that the locals would have loved it was the late brave effort by Lilian Jégou who maintained the pride of the Sons of Brittany.
Return to ToC >>> Next Stage >>>