CyclingRevealed's First Impressions '07
Stage 18 - July 27st, Cahors to Angoulême, 210 km
The Long, Long Road
| Michael Boogerd time trials in 2004 [ Images ©: CyclingRevealed.com ] | Axel Merckx on Alpe d'Huez in 2004 [ Images ©: CyclingRevealed.com ] |
| --- | --- |
Laurent Lefèvre (Bouygues Telecom), Axel Merckx (T-Mobile), Michael Boogerd (Rabobank) and Sandy Casar (Française Des Jeux) made an early and decisive escape today. Steadily they ground out their rhythm along the beautiful Dordogne roads taking the four modest Cat 4 climbs in their stride and sharing the spoils. The Tour is a very long race by anybody's standards. Today the long, long road to Angoulême was, in spite of its tremendous natural beauty, probably a tiresome chore to many riders who now have no other ambition than to cross the finish line in Paris . The emotional roller coaster of the past few days have been very tough on everyone.
Michael Boogerd and Axel Merckx lead the long breakaway [ Images ©: www.gazzetta.it ]
But for Michael Boogerd and Axel Merckx their thoughts were no doubt dominated by the knowledge that this was their last Tour 'hurrah'. For both riders this is not only their last Tour but also both have said that they will retire this season. The typical response to this knowledge is to delve into their p almarès and recite their accomplishments. Between them they have 27 years in the pro peloton. Like any of us that have experienced a long time in one job they have developed many good friends and can recall many happy moments not necessarily connected with being first over the finish line.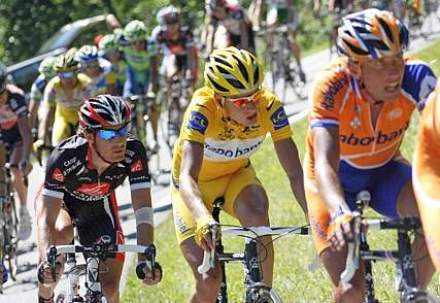 Very strong work early in the Tour help his teammate in the YJ [ Images ©: www.gazzetta.it ]
As Boogerd rode along today he was probably remembering a career that started in 1994. Numerous Tour participations, including two stage wins, three national championships and one win each in the Amstel Gold classic and the Paris-Nice (overall GC). Merckx started his pro career one year before Boogerd and has ridden 8 Tours and been the best placed Belgian rider in six of them. In 2000 he was the Belgian National Road Race Champion. Of the two Merckx undoubtedly had the hardest challenge as he has always lived under the shadow of his great father, Eddy. In particular the media attention and expectations of the younger Merckx were astronomic. To escape the frenzy in Belgium he eventually moved himself and his family to Monaco .
The pro peloton is a large but very intimate community. During the season they see each other far more than their families. Boogerd and Merckx know each other very well and as they sped towards the finish possibly talked of their final Tour kms together. But the long, long road of the Tour holds little room for sentimentality. A stage win is a big deal and as a pro your job is to secure that win no matter what.
With 47kms to go the four leaders had 17m 30s on the bunch and Boogerd was moving up inside the top ten on GC. With 2 Euskaltel riders displaced by Boogerd the entire team massed on the front of the chasing peloton and closed the gap to under 10 minutes.
When the breakaway entered the finishing stretch in Angoulême veteran Sandy Casar attacked hard. Michael Boogerd chased hard and caught Casar with Merckx on his wheel. Casar surged again while Boogerd was watching Merckx and the stage win was his.

Stage winner Sandy Casar [ Images ©: www.gazzetta.it ]
Most who witnessed the breakaway on stage 18 rooted for either Boogerd or Merckx in their last Tour to take the victory, but today it wasn't to be. These two classy riders rode with the dignity that distinguished the long, long road of their glorious careers.

White Jersey / Best Young Rider
The White Jersey calculation is the same as the Yellow Jersey Classification. All riders in this classification must have been born after January 1, 1982 (26 years old or less).
Return to ToC >>> Previous Stage >>> Next Stage >>>