CyclingRevealed's First Impressions '07
Stage 17 - July 26th, Pau to Castelsarrasin, 188 km
Zero Tolerance
The Tour has never seen a day like it. Yesterday the Yellow Jersey holder, Michael Rasmussen, rode triumphantly to the summit of the Col d'Aubisque to all but seal his overall victory in the 2007 Tour de France. But behind the scenes on the road his Rabobank team management, who had been seething over Rasmussen's apparent disregard in following contractual agreements, were presented with evidence proving that Rasmussen had been lying to them. At issue was the fact that Rasmussen had missed routine out-of-competition drug tests because he said that he was in Mexico for most of June. Apparently it has been proven that he was in Italy during much of June.
In response the Rabobank team removed Rasmussen from the Tour and then fired him. Naturally Rasmussen later proclaimed his innocence. These days with electronic records and the intense focus on controlling the traveling public due to terrorist threats, it is very easy to produce evidence of a person's whereabouts. If Rasmussen was in fact in Mexico during June then airline ticket records, passport stamps, credit card records and receipts for things like meals must be easily accessible to Rasmussen. We can only assume that Rasmussen was unable to produce a thread of evidence to support his claims.
In the weeks and months to come much more information will surface concerning these and other cases. Meanwhile the fact that cycling is almost the only sport taking on the drug issue head-on is starting to gain traction in the non-cycling media. A roll call of big names in every major national sport reveals a bleak and very sinister side to the sporting world at large. Yet the federations controlling those sports are apparently doing little more than paying lip service in their efforts to deal with the problem.

The Tour rolls on [ Images ©: AFP ]
Cycling has vowed to deal with the drug related problems with policies given grandiose titles like "Zero Tolerance" and the "Code of Ethics". For once something that looked like feel good eye candy has proven to have real teeth. If they did not before, Vinokourov, Moreni and Rasmussen have truly learnt what 'Zero Tolerance' really means. Also the Astana and Cofidis teams have followed their acceptance of the 'Code of Ethics' by taking their entire teams out of the Tour when one of their number returned a failed drug test.
By now the entire professional peloton, whether currently in this Tour or elsewhere, must surely understand that there is no future for cheats. However they will need to demonstrate exceptional strength of character to resist unscrupulous team managers and doctors. We said this after Simpson, we said this after the Festina affair and it has been said on other pivotal occasions, but maybe, just maybe this time we have turned the corner and can hope for a cleaner sport. Unity amongst ruling bodies, race organizers and team mangers will need to be increasingly strengthened and integrated with sophisticated drug monitoring technologies.
Naturally the race entourage came to the start line today somewhat shell-shocked. Some were seething with rage while others were numb with resignation. Nobody knew quite what to expect of the stage. Happily the race moved off and early on a break soon established itself. Anything other than to race would have been a victory to the cheaters.
Had the race been its normal self then we would have seen Rasmussen surrounded by his Rabobank team controlling the peloton. Instead there was no Yellow Jersey wearer today and the dejected Rabobank team was simply languishing at the rear end of the race.
In the early kilometers Jens Voigt (CSC), Martin Elmiger (Ag2r), Daniele Bennati (Lampre), Daniele Righi (Lampre), David Millar (Saunier Duval), Markus Fothen (Gerolsteiner), Manuel Quinziato (Liquigas) and Matteo Tosatto (Quick Step) slowly pulled away from the peloton. Their maximum advantage came with 34kms to go with an 8m 1s advantage.

Breakaway de Jour [ Images ©: AP ]
Perhaps the most important image of the day was of the fans who once again came to the road side in very large and enthusiastic numbers. Protests seemed few and supportive creative Tour 'sculptures' and other displays seemed plentiful. It was warm and the sun was shining on what looked like a big party celebrating its beloved Tour. Interviews with many onlookers reveal a majority who understand and appreciate the sincere efforts being made to weed out the cheats. These people are not deserting cycling.
On the final little Cat 4 climb with about 20kms to go, Jens Voigt ignited the touch paper with the first serious attack on the break. A rapid salvo of cut and thrust moves finally saw Bennati, Fothen Elmiger and Voigt pull away and after a hectic sprint finish in that order. Millar came in 2m 41s later as the best of the rest. Grabbing the remaining 'points' scraps, Tom Boonen led in the big peloton 9m 37s later.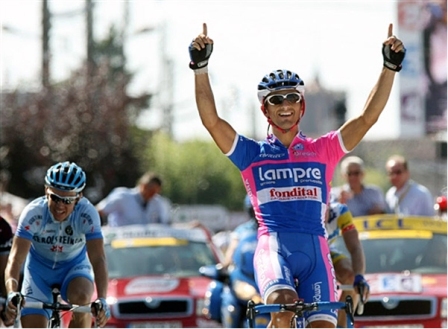 Sprinter Daniele Bennati give Lampre a stage win [ Images ©: AFP ]
Alberto Contador was awarded his first Yellow Jersey and with just one more flat day to go awaits the final challenge from Cadel Evans (2nd on GC) and Levi Leipheimer (3rd on GC) in Saturday's time trial. Hopefully these guys are all 'clean' because like anyone else in the race they too can fall victim to the policy of "Zero Tolerance".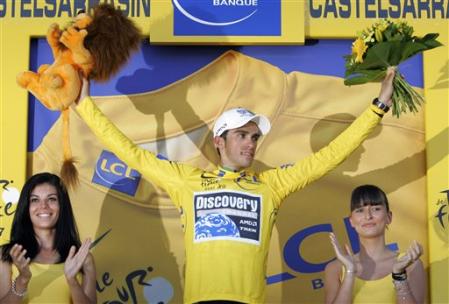 Sweet Maillot Jaune!!! [ Images ©: www.gazzetta.it ]

White Jersey / Best Young Rider
The White Jersey calculation is the same as the Yellow Jersey Classification. All riders in this classification must have been born after January 1, 1982 (25 years old or less).
Return to ToC >>> Previous Stage >>> Next Stage >>>