CyclingRevealed's Giro '07 Perspective
Tappa 4- May 16th, Salerno to Montevergne Di Mercogliano, 173 km
Died and Gone to Heaven
When the locals of the Almalfi coast region are asked what they think life will be like in heaven they will typically respond by saying that it will be just like any day here. Such is the beauty of this region. In September 1943 this idyllic setting was the last thing concerning the Allies as they made the first serious assault on "Fortress Europe". The Salerno landings codenamed Operation Avalanche saw little resistance from the occupying German forces. Hitler, under Rommel's advice, decided that it was not strategically important to defend this region with any great effort. Consequently, and much to the chagrin of the local army commander Field Marshal Kesselring, reserves from the German Northern Army could not be called in. However a series of defensive lines stretching East/West across Italy were in place to slow down the Allies as they attempted to head north.

Salerno and the Almalfi coast - a slice of heaven [ Images ©: Almalfi Coast Tourism ]
For the Giro riders the beauty of the Almalfi region was also of little consequence as the race made its first serious assault in the quest for Pink. The mountain top finish on the Montevergine was confidently predicted to create some serious sorting out up its 17 km ascent.
At 35 km three men escaped a somewhat lethargic and cautious bunch. Once again Pavel Brutt was there looking to add more mountain points to his account. He succeeded in this effort as he claimed maximum points on the Cat 3 Piccolo St. Angelo at 51 kms.
Behind them the peloton was not enjoying the sinuous and narrow roads and between the 50 and 65 km mark things turned ugly as rain set in. A series of small crashes culminated in a huge pile up which brought down about 60 riders. The bunch slowed down as riders tried to extricate themselves from the carnage and rejoin the main field. Two of the most notable victims were Bettini and race leader Gasparotto. Bettini seemed to have wrist and rib issues and slipped back to the medical car. Likewise Gasparotto was displaying signs of distress but these guys are as tough as old boots and they both eventually made their way back to the front end of the race by the time the final ascent started.
Brutt, along with his two break companions (Markel Irizar Aranburu, Euskaltel-Euskadi and Yuriy Krivtsov, Ag2r Prevoyance) still had about 1m 30s with 10kms of climbing to go. Back in the bunch Bettini was in about 10th place.
Suddenly Perez Cuapio exploded from the front of the bunch and rocketed his way up to the break. Many will remember Perez from a few years back when he astounded Giro race followers with his climbing skills. That year he became a much loved rider after he crashed and knocked out a couple of his front teeth. His constant smile made for great photos. Unfortunately he has done little since. Is he now on the way back?
Perez caught and dropped the lead riders and behind him Piepoli, another great climber, started his own effort for a stage win. However Liquigas massed at the front of the bunch and whipped up the pace for their man Di Luca as they pegged Perez at 14 seconds with about 6km to go. The rain came back and everyone was now on "the rivet". Both Bettini and Gasparotto in particular, started to have a really bad day. The bunch literally disintegrated with riders scattered all over the mountain.
Two kilometers to go and Perez was still displaying the wonderful skill of a pure climber. The chase was full on and they were nibbling away at the leader one painful second at a time as the road reared up to the steepest section.
Into the final kilometer with its sharp switchbacks, steep stone retaining walls and huge crowds, Perez was caught by the leading contingent of a dozen or so riders. An incredible sprint ensued that looked as though they were racing on flat roads. For the second time in his career (six years ago) Di Luca won a Giro stage atop this mountain. Of the pre-race favorites both Cunego (3rd) and Garzelli (5th) accompanied Di Luca in the elite lead group while Simoni was 15s back and Savoldelli was 34s back.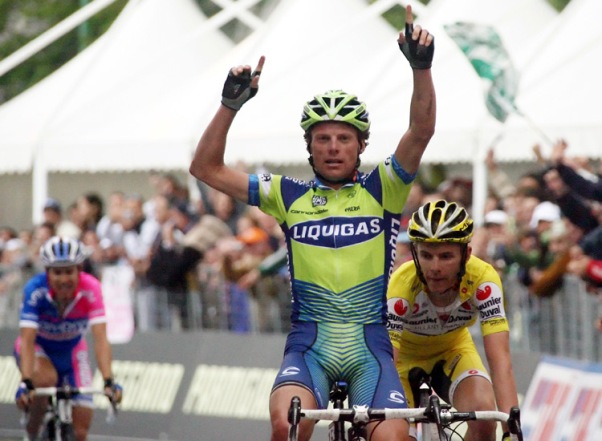 Di Luca wins the uphill sprint [ Images courtesy Steephill.com ]
Sadly Gasparotto suffered greatly from his crash and struggled in over 14 minutes down along with the 'gruppeto' containing most of the sprinters.
Perhaps one of the most pleasant surprises thus far is to see time trialist Dave Zabriskie up in 7th place on GC. He is looking lean and fit and he could well become an unexpected final podium contender. Along with teammate Andy Schleck in 5th on GC, CSC will be causing Di Luca's Liquigas team a lot of headaches in the coming days.
For many riders this fourth stage was certainly not a day in heaven with its challenging roads, crashes, rain and a brutal mountain top finish. But for Danilo Di Luca, as the new race leader, he must be feeling like he has died and gone to heaven!

Di Luca must be feeling like he has died and gone to heaven! [ Images ©: www.gazzetta.it ]
Tomorrow: the Giro conitunes up the western coast. The Stage 5 on Thursday from Teano to Frascati (173 km) take the Giro to Rome. CyclingRevealed will continue to follow the action.
Return to Giro 07 ToC >>> Previous Stage >>> Next Stage >>>