CyclingRevealed's Giro '07 Perspective
Tappa 3- May 14th, Nuraghe di Barumini to Cagliari, 181 km
Community Racing

The finishing City of Cagliari
A mainly flat stage under a clear warm sky greeted the riders for their last day on Sardinia. The course is ideally suited to the sprinters and another mass sprint is predicted. In common with numerous towns and cities throughout Italy, Cagliari has a history which goes back to prehistoric times. Today the city is the capital of Sardinia which boasts one of the longest beaches (13km) in Italy as well as one of the largest fish markets in the country. While tourists may enjoy these things the riders will only experience the usual post-race chaos prior to jumping on planes for the trip back to the mainland (and Stage 4 on Wednesday).

A warm Sardinian welcome to the Giro [ Image ©: www.gazzetta.it ]
Anyone that has ridden a long stage race will know that there is no such thing as a routine day. Everyday is a race filled with all of the little incidents (holding wheels, closing gaps, maybe chasing back on after a puncture, eating, drinking, etc.) that make up a typical day of racing. Riders with bad form or accumulated exhaustion will be suffering just to stay with the bunch while others will be 'on the rivet' trying to make a break stick.
Such was today. For viewers it was a long day characterized by a day long break that everyone knew would finally be reeled in for the sprinters to have their day. Not particularly exciting unless you happen to be riding in the middle of the bunch all day. If you are viewing the racing on cycling.tv (subscribe through the link on this site) it is instructive to focus your attention to all the little incidents continually happening with the bunch. Imagine yourself to be one of the 'gregario' sent back to get bottles or help pace another teammate back to the bunch. We have all dropped back from a club ride or race at some time and know just how hard it is to get back again. Now imagine what it means to elevate that effort to trying to regain a Pro Tour peloton (especially if you are carrying a dozen or so drinking bottles)!
At some time or other every rider loses contact with the bunch for whatever reason. While pacing contravenes the rules you will often see team cars, motorcycles and other race convoy vehicles quietly 'assisting' riders back to the race. In most cases race officials will turn a blind eye to these incidents so long as a rider is not simply using pacing to help save energy for later in the race. This gentlemanly camaraderie is one aspect of racing that few viewers appreciate. The cycle racing community is relatively small, very close knit and everyone knows everyone. The Pro Tour community in particular spends all year together and during the Grand Tours the closeness is greatly amplified. Helping each other in small ways is an unwritten law that is both expected and repaid many times over.
While the bunch was attending to 'routine business' today the five riders that escaped about 5kms after the day's start, were hell bent on making it to Cagliari without their erstwhile companions. Their maximum advantage was about 7mins 15s but domestiques behind them were instructed to keep the bunch within striking distance until it came time to ruthlessly eliminate the break. With 70 km to go Mikhail Ignatiev (Tinkoff) and Giovanni Visconti (Quickstep) powered away from their break companions and set about the task of winning the day. These two young and very talented riders almost made it but gentlemanly behavior within the bunch does not extend to the serious business of actually winning a race. Coming into town the Milram team set a blistering pace and the two brave escapees threw in the towel with 4kms to go. While many believe that Petacchi is past his best it was obvious that his team still fully believe in him. Their trust was repaid as he spun his monster 53x11 gear over the line first. Ale-Jet is back!!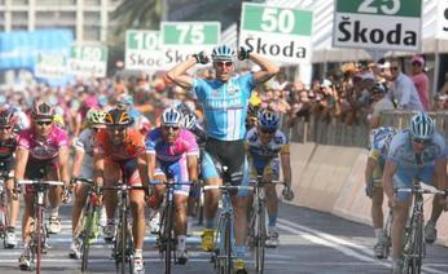 Petacchi!! [ Image ©: www.gazzetta.it ]
McEwen came fourth and thus relinquished his Points Jersey to Petacchi. Over in the Liquigas camp the Maglia Rosa jersey returned to Gasparotto (8th today) as Di Luca finished in 82nd position. However the two riders still share the same time overall. Things will change on Wednesday as the race hits the first serious climbs and 'community racing' will become but a memory of happy times in Sardinia !!
Tomorrow: Rest day (transfer back to mainland Italy ). Tune in for our race-so-far summary.
Return to Giro 07 ToC >>> Previous Stage >>> Next Stage >>> Rest Day 1 Recap >>>