CyclingRevealed's Giro Perspective
Tappa 2, May 7th , Mons (Bel) to Charleroi/Marcinelle (Bel), 197 km
Slim Pickins
Before the start of today's stage a one minute silence was observed to remember a terrible mining disaster at Bois de Cazier near Charleroi-Marcinelle. This event happened in 1956 and claimed 136 Italian lives together with 95 Belgians and miners from 12 other nations. This region was chosen by the Giro for its first four stages partly to remember the lost miners but also to celebrate the 60 th anniversary of Belgo-Italian treaty on coal.
After WW2 the populations of Italy and Germany faced bleak times with poverty and unemployment and with little sympathy from the conquering nations. About 300,000 Italians migrated to the coal and steel mines of the industrial Walloon region. Today thriving Italian community's dot the region and the Giro will feel very much at home with Italy 's tricolor flag much in evidence and restaurants everywhere serving up "Giro specials" of classic Italian food.
For the local Belgians possibly their favorite son in the race is Rik Verbrugghe (Cofidis). In a country dominated by Flemish riders, relatively few Walloon (French speaking) riders have risen to the top of the sport. In 2001 Verbrugghe won the Giro prologue TT at the amazing speed of 58.874kmph (36.59mph). At the time this was the fastest ever recorded individual time trial. Yesterday the proud Verbrugghe wanted to win in front of his home crowd but could only manage 20th place 28 seconds slower than stage winner Savoldelli. However it should be noted that Verbrugghe was very active in the negotiations to bring the Giro to his home region.
Fittingly today's stage was very much in tune with the grim industrial landscape. Heavy grey skies, rain and cool temperatures. Apart from one small ascent at Silenrieux the stage was flat and thus one for the sprinters. There are precious few stages (just five in fact) this year that suits the fast men. 'Slim pickins' indeed and general opinion has it that big sprint favorites like Petacchi and McEwen will leave the race after the flat Stage 15 into Brescia and avoid the final murderous climbing stages leading to Milan.
Predictably a small break of modest riders ploughed a lonely and soggy path through the uninspiring landscape and weather for most of the race. Savoldelli's Discovery team maintained a reasonable tempo at the front but the sprinters teams (especially Milram for Petacchi and Davitamon-Lotto for McEwen) were also very willing to help keep the break in check.

The breakaway [ Image by Luc Claessen/ www.ctm-images.com ]
With about 30km to go the cold, the rain and exhaustion saw the four man break start to fall apart. Right on cue, and under the impetus of the sprinters teams, the break was neutralized with about 15km to go. While Milram and Davitamon-Lotto set up their "trains", Discovery did likewise but their motivation was no more than to protect Savoldelli and keep him out of trouble. Joining in with the fun is Quick.Step who is looking to bring their man Bettini to the front. This is a little surprising as Bettinni is targeting tomorrow's tough uphill finish to the Citadel in Namur. But then the "cricket" is a scrapper and not one to miss out on any chance for victory.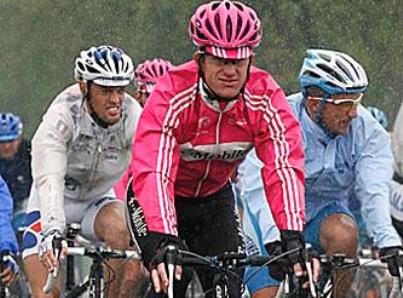 Nasty Belgian rain Image by Luc Claessen/ www.ctm-images.com
Into the final straight of 1.6 km Petacchi has a perfect lead-out from his team. With 200m to go his final lead-out man Alberto Ongarato pulls over for his man. Surprisingly Petacchi does not have the power along the windy finish. McEwen who had been right on his wheel blew past and nailed the win. Bettini, on McEwen's wheel took third as T-Mobiles Olaf Pollack just managed to inch ahead of him for second right on the line. Petacchi was fourth and Savoldelli comfortably defended his 'Maglia Rosa'.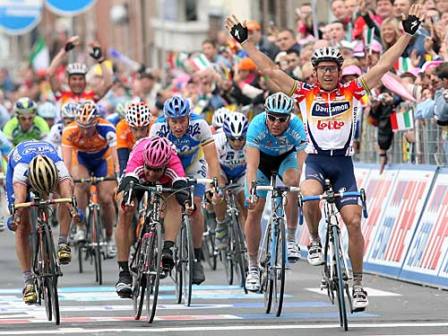 McEwen's stage win [ Image ©: www.gazzetta.it ]
SPECIAL NOTE: With 35 kms to go the race passed through Florennes which was home to three very famous Tour de France champions. [ Read the CyclingRevealed story here. ]
Tomorrow: echoes of the Ardennes classics on the hilly road from Perwez to Namur, 202km. Come back to read our report.
Return to Giro 06 ToC >>> Previous Stage >>> Next Stage >>>