CyclingRevealed's Giro Perspective
Tappa 1, May 6th, Seraing (Bel), 6.2 km ITT
The Opening Salvo
When Henri Desgrange was creating his Tour de France he stated that "The Tour de France should be so hard only one rider survives the ordeal." A little extreme maybe but the indefatigable Desgrange worked ceaselessly to incorporate innovations that would both challenge the athletes and provide an intoxicating spectacle for the sporting public.
Last year the Giro was, without doubt, the best race of the year. Again this year the Giro organizers have built a route guaranteed to create excitement. In terms of innovation the Giro is now ahead of the Tour. Whereas the Tour has fallen into a fairly predictable model, the Giro is making bold experiments that would greatly appeal to Desgranges style of operation. In 2005 the most spectacular and much anticipated event was the day that the race headed up the unmade road of the Colle dello Finestre. In the lead up to the race there was much consternation and endless foreboding predictions of a fiasco. "How can they take a modern peloton over unmade roads?" In actual fact we were treated to a fantastic day of racing. But the Giro was not just one day. The entire race was memorable for many reasons.
This year we will again be treated to retro-style conditions when the race reaches the Plan de Corones on Stage 17. This, plus the incredibly mountainous stages from Stage 16 to Stage 20, has many riders, managers and faint-of-heart observers squealing like stuffed pigs. Just like last year we are getting advance reports of dire conditions. Maybe, but the athletes are built for such challenges and in our soft and easy high tech world the public will flock to the race. The organizers know this and have created a beautiful balance between extreme and challenging. The Giro is very different from the Tour and it is a race not to be missed. Here on CyclingRevealed we will follow every day and give you our take on events as they unfold.
They're off!
Today the first test was a technical 6.2 km individual time trial that featured a twisting 2.5 km, 10% climb and it was completed by 198 riders. Almost two minutes separated the first and last rider. Just as he did at the Tour of Romandie prologue in Geneva on April 25, Paolo Savoldelli (Discovery and defending Giro champion) blitzed the course to an emphatic win. Considering the short distance he was an astounding 11 seconds faster than second placed Bradley McGee (FdJ). Thereafter the riders were spaced at seconds or fractions of a second to further illustrate the dominance of Savoldelli's ride. Of the primary contenders Danilo Di Luca (Liquigas-Bianchi) was 10 th at 19 seconds, Ivan Basso ( CSC ) 13 th at 23 seconds, Damiano Cunego (Lampre) 15 th at 25 seconds, Gilberto Simoni (Saunier Duval) 16 th at 26 seconds and Jose Rujano (Columbia-Sella Italia) 46 th at 39 seconds.
Many will say that this short opening test will count for little three weeks from now. However if you go back and review prologue TT results at the Grand tours the main contenders (including the final podium) will normally be clustered in the top ten or so. These short and brutal races clearly demonstrate the riders form. With that in mind we already see an interesting situation. Discovery will probably not want to hold the Pink Jersey for too long. The team will need to be preserved for the tougher days of week two and especially week three. Many are saying that Savoldelli cannot match climbers like Basso, Di Luca, Simoni and Cunego. But then none of these riders can stay with "il falco" when the road heads down to the valley again. More importantly Discovery knows how to win Grand Tours with seven Tour de France's as well as last years Giro to their credit. Johan Bruyneel (Discovery DS) has stated that he wants a podium finish for his team. We can be sure that he has been working on Savoldelli's climbing and that the rest of the team is equally well prepared. Tom Danielson was an excellent 12 th in the TT, Jason McCartney 24 th and Jose Rubiera 29 th . Advantage Discovery, advantage Savoldelli.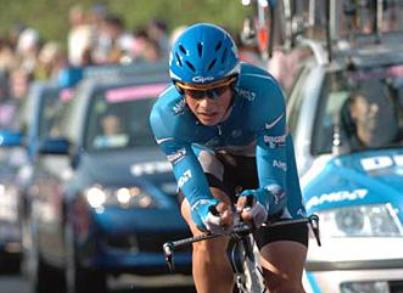 Stage winner Paolo Savoldelli [ Image ©: www.gazzetta.it ]
Di Luca, Basso, Cunego, Simoni and their respective teams represent formidable opponents to Discovery. In addition there is one great spoiler. The pint-sized Venezuelan Jose Rujano. If he hits the mountains like last year, but with even more confidence, then we could well see performances that will bring back memories of riders like Charly Gaul (the angel of the mountains) or Federico Bahamontes (the eagle of Toledo). In this event Rujano could well put so many minutes into everyone else that it will be race over. A great race is ahead of us.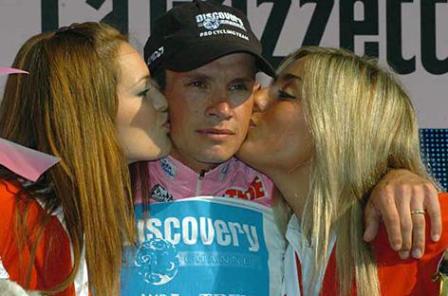 Only stage 1 but a focused Paolo Savoldelli enjoys the podium [ Image ©: www.gazzetta.it ]
Tomorrow: a fast flat stage for the sprinters. Mons to Charleroi-Marcinelle, 203km. Come back here for our report.
Return to Giro 06 ToC >>> Next Stage >>>