Climb the Cauberg 15 Times…?
The 1998 World Championship Road Race was held in Valkenburg, Holland. The race covered 258 kms (15 laps of the 17.2 km circuit). Each circuit included the tough climbs of the Cauberg (12%) and the Bemelerberg (11%).
After numerous early breakaways the race began to take shape with three laps remaining. A fourteen rider group formed and opened a 2'15" gap on the ascent of the Bemelerberg. The elite selection had begun.
Swiss champion Oscar Camenzind attached and shattered the breakaway group. The final lap the leaders were Oskar Camenzind (Swi), Lance Armstrong (USA), Michele Bartoli (Ita), Peter Van Petegem (Bel) and Niki Aebersold (Swi). Slowed by a puncture Michael Boogerd (Ned) was chasing.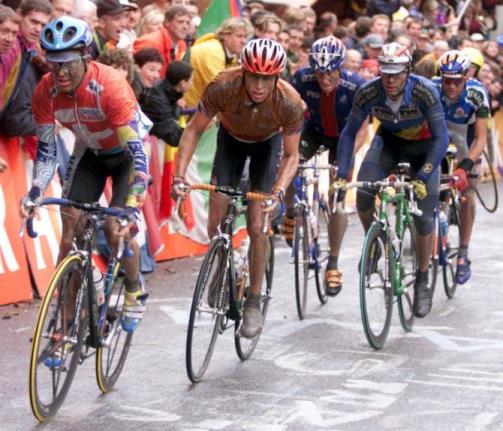 Camenzind launches a strong attack in Bemelen and drops the now 4 rider chasers. The solo leader hit the final ascension of the Cauberg with a 10 second lead.
Oscar Camenzind cruised under the 1km to go banner and rode easily across the finish line for the 1998 World Road Race championship.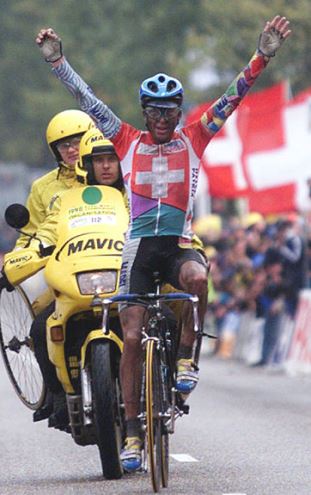 SPECIAL NOTE: Oscar Camenzind became the first Swiss rider to win the Championship since Ferdi Kulber in 1951.
WCRR October 11, 1998
258 Km [ Vaulkenberg, Holland ]
1. Oscar CAMENZIND (Sui) 6h01'30"
2. Peter Van Petegem (Bel) +23"
3. Michele Bartoli (Ita) +24"
Starters: 152
Finishers: 66
Average Speed: 42.820 km/h
Return to the Timeline ToC
Return to the Race Snippets ToC