Venetian at Altitude
Welcome to Colorado Springs. At 6,035 feet (1839 meters) above sea level Colorado's thin air would test the endurance of the world's best cyclists. The tough 15.4 km race course rose to 7,280 feet and at the 261.8 km (162 miles) length riders enter the race with questions about stamina.
The starter's flag dropped at 9 AM sending the 141 rides for a journey around the campus of the Air Force Academy. The race was cautious through 13 of the 17 laps with insignificant breakaway attempt easily controlled by the peloton.
The race increased in tempo when Frenchman Charly Bernard escaped solo on the ninth lap and established a 2'42" lead in three laps. Finishing the twelfth lap Bernard was caught. Immediately the move of the race occurred.
Ron Kiefel (USA) started an attack with Charly Mottet (Fra) on his wheel. They were quickly joined by Italian Moreno Argentin, Laurent Fignon (Fra), and three other team riders. The group eventually became 11 riders strong and had the makings of a strong break. There were still 5 laps (47 miles) to go with no immediate chase from the remaining peloton being organized.
When the lead reached 2'40" on lap 14, the Dutch and Spanish teams began the real chase. One lap later with the lead down to one minute, Laurent Fignon started to break-up the 11 riders. When the lead dropped to 46" the capture seemed imminent, but the chasers hesitated on the climb and the gap increased again.
Moreno Argentin could wait no longer. The 25-year-old Venetian pumped a huge gear and started the final laps 1'43" ahead. Mottet and German Rolf Golz joined Argentin, but the inspired Italian dropped Golz on the last climb of the long hill.
Moreno Argentin easily sprinted past a frustrated Charly Mottet on the finishing straight for the victory.
The furious effort of the peloton to catch the two leaders came up just short as the peloton sprinted in nine seconds behind the winner. Italian teammate Giuseppe Saronni took the field sprint for third place and the bronze medal.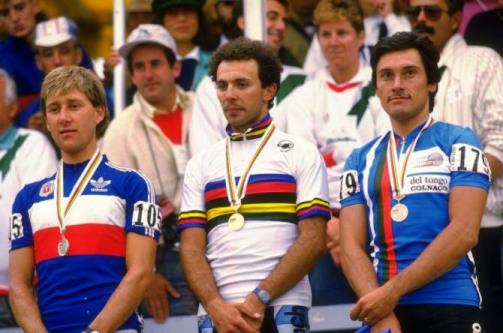 WCRR September 7, 1986
261.8 Km [ Colorado Springs, USA ]
1. Moreno ARGENTIN (Ita) 6h32'38"
2. Charly Mottet (Fra) +1"
3. Giuseppe Saronni (Ita)+9"
Starters: 141
Finishers: 87
Average Speed: 39.880 km/h
Return to the Timeline ToC
Return to the Race Snippets ToC