Harm Ottenbros
The 1969 World Championship Road Race was held in Zolder, Belgium. The 262.86 km race course presented 30 laps around an 8.76 km "motor-racing" circuit.
The race was held in Belgium and Eddy Merckx (Bel) was a favorite for victory. Through the early laps Merckx was very closely marked by the contender, when Belgian teammate Julien Stevens and Dutchman Harm Ottenbros broke away. Merckx was so confident Stevens would win the two-man sprint, he retired from the race. The huge Belgian crown at the finish anxiously anticipated the Stevens victory.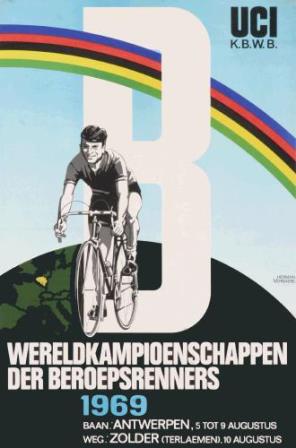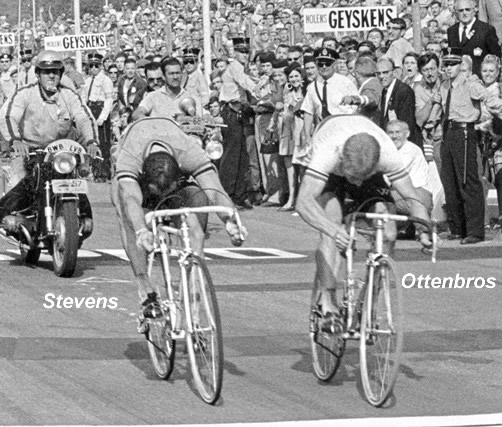 Down the finishing straight Harm Ottenbros powered past a tiring Stevens and gained a surprise 1969 World Championship victory! An emotional Julien Stevens finished second.
SPECIAL NOTE: Harm Ottenbros' victory on Belgian soil was so infuriating to the fans that the Dutchman had to have a police escort to reach the podium.
WCRR August 10, 1969
262.86 Km [ Zolder, Belgium ]
1. Harm OTTENBROS (Ned) 6hr23'44"
2. Julien Stevens (Bel)
3. Michele Dancelli (Ita) +2'18"
Starters: 91
Finishers: 62
Average Speed: 41.100 km/h
Return to the Timeline ToC
Return to the Race Snippets ToC