Speicher's Grand Double!!
The 1933 World Championship Road Race was held in Montlery, France. The circuit was 12.5 km in length and the race was contested over 20 laps.
SPECIAL NOTE: The circuit was closed by French promoters and spectators were forced to pay admission to view the race.
Shortly after the Tour de France was over, a strange and somewhat controversial French World Championship selection process left Georges Speicher, the winner of the 1933 Tour, off the national team. Speicher returned home and stopped training. The day before the WC race one of the National team members became ill and withdrew. Scrambling for a replacement the French officials found Speicher and convinced him to race. Despite little training since the Tour, he was told to just set a fast early pace for the race. After fifty kilometers of pace setting Speicher attacked alone to make the other teams work. By the time the other teams started to chase it was too late. Speicher convincingly completed the race with a 5-minute victory.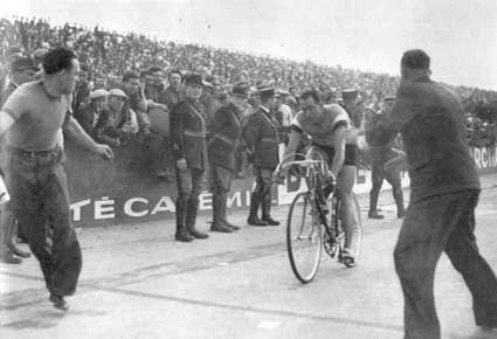 Georges Speicher became the first rider to win the Tour de France and the World Championships in the same year.
SPECIAL NOTE: The growing popularity of the derailleur became very evident. Frenchman Georges Speicher use one to win the 1933 Tour de France.
WCRR August 14, 1933
250 Km [Montlery, France]
1. Georges SPEICHER (Fra) 7h08'58"
2. Antonin Magne (Fra) +5'03"
3. Marinus Valentijn (Ned) +5'04"
Starters: 28
Finishers: 13
Average Speed: 34.967 km/h
Return to the Timeline ToC
Return to the Race Snippets ToC