Frenchman Surprises the Favorites
Cold weather greeted the riders in Compiegne for the 1997 Paris-Roubaix. Exactly at 10:25AM the race rolled out to the cobbled "Hell of the North".
After traditional early-unsuccessful breakaways were caught the winning breakaway took control of the race. Brilliant work by Johann Museeuw's Mapei team, Frederic Moncassin (Fra) started the winning move. The attack was quickly answered by Museeuw with Andrei Tchmil (Ukr) glued to his wheel.
Exiting the cobble section at Cysoine Museeuw punctured. Moncassin and Tchmil rode away with 40 km to go. After a fast wheel change the Belgian joined a strong 5 rider (Jo Planckaert, Frédéric Guesdon, Davide Casarotto, Rolf Sørensen, and Marc Wauters) chase group.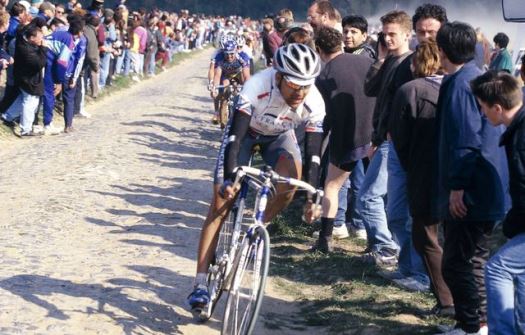 The Moncassin and Tchmil breakaway was caught by the 6 chasers entering velodrome. Museeuw and Tchmil started the sprint on the back stretch when Guesdon made a brilliant move up the banking of the track and jumped hard out of the final corner of the Roubaix velodrome. Unheralded Frenchman Frederic Guesdon sprinted to surprise win in the 95th edition of Paris-Roubaix.
P-R April 13, 1997
266.5 Km, Compiegne to Roubaix (Velodrome)
1. Frederic GUESDON (Fra) 6h38'10"
2. Jo Planckaert (Bel)
3. Johan Museeuw (Bel)
Starters: 177
Finishers: 75
Average Speed: 40.280 km/h
Return to the Timeline ToC
Return to the Race Snippets ToC