Ballerini… at Last a P-R Victory!!!
The 93rd edition of Paris–Roubaix was held on April 9, 1995. Italian Franco Ballerini riding for the powerful Mapei-GB team won his first "Queen of the Classics"!!!
The race came down to a six rider breakaway with 32 km left to go. A determined Franco Ballerini took control of his own destiny in the 3 star cobbled section at Templemars (counting down cobbled section #7 of 22) and rode away from the breakaway group. With nearly 30 km to go Ballerini pulled steadily away.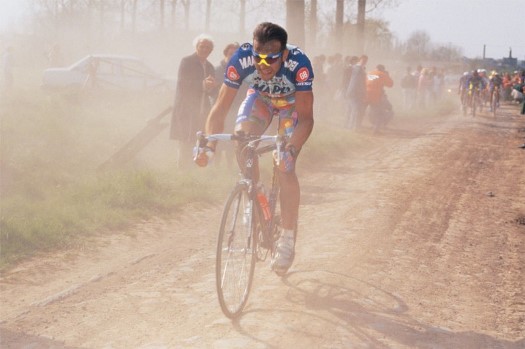 Entering the velodrome in Roubaix Ballerini had almost a two minute lead on an elite 15 rider chase group. Franco Ballerini cruised across the finish line to finally claim the prestigious P-R victory!!!
Lotto's Andrei Tchmil won the sprint for second place ahead of Mapei-GB's Johan Museeuw.
SPECIAL NOTE: Italian Franco Ballerini stated his favorite race was Paris-Roubaix. He came close to winning 3 times prior (3rd in 1994, 2nd in 1993, and 5th in 1991). 1995 was a very special year for Ballerini.
P-R April 9, 1995
266.5 Km, Compiegne to Roubaix (Velodrome)
1. Franco BALLERINI (Ita) 6h27'08"
2. Andrei Tchmil (Mol) 1'56"
3. Johan Museeuw (Bel)
Starters: 178
Finishers: 91
Average Speed: 43.320 km/h
Return to the Timeline ToC
Return to the Race Snippets ToC