Unknown Belgian Wins the Queen!!!
The 1989 Paris-Roubaix was the 87th running of the "Hell of the North". Rain in northern France left the race course muddy and slippery. The cobblestone sectors were treacherous.
The final selection was made with 60 kilometers to the finish. Six riders escaped, Edwig Van Hooydonck (Bel), Dirk De Wolf (Bel), Jean-Marie WAMPERS (Bel), Gilbert Duclos-Lassalle (Fra), Eddy Planckaert (Bel), and Marc Madiot (Fra), and steadily gained time on the chasers.
Dirk De Wolf attacked the group going into the brutal cobble section, the Carrefour de l'Arbre.
Wampers jumped off the front to answer De Wolf's attack. The chase was hard and in Hem Wampers made the junction with 9 km to go.
Dirk De Wolf led sprinter Jean-Marie Wampers into the Velodrome with a lap and a half of the velodrome. Down the back stretch Wampers jump away and easily came around De Wolf for the unexpected Paris-Roubaix victory.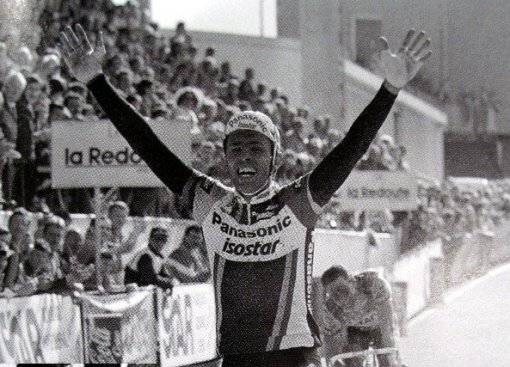 SPECIAL NOTE: After the race Jean-Marie Wampers was asked when he knew he had won the race? "After I crossed the finish line!"
P-R April 9, 1989
266 Km, Compiegne to Roubaix (Ave des Nations-Uries)
1. Jean-Marie WAMPERS (Bel) 6h46'45"
2. Dirk De Wolf (Bel)
3. Edwig Van Hooydonck (Bel) +59"
Starters: 169
Finishers: 57
Average Speed: 39.164 km/h
Return to the Timeline ToC
Return to the Race Snippets ToC