"The Gypsy's" First Paris-Roubaix Victory
Nicknamed 'the Gypsy' Roger De Vlaeminck started a love affair with the "Hell of the North". A gifted athlete the Belgian used a great sense of balance to guide over the tough cobbled roads of Northern France.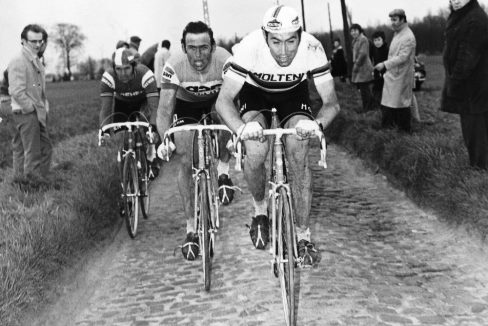 The race left Chantilly under miserable weather conditions with cold temperatures and an icy rain. The large peloton approached the always tough cobbled section at the Arenberg Forest with great speed. The wet condition made the passage almost impossible. A monumental 40 rider crash on the muddy cobblestones took Eddy Merckx to the pavement. The crash allowed a 17 rider group to form with Rger De Vlaeminck driving the pace.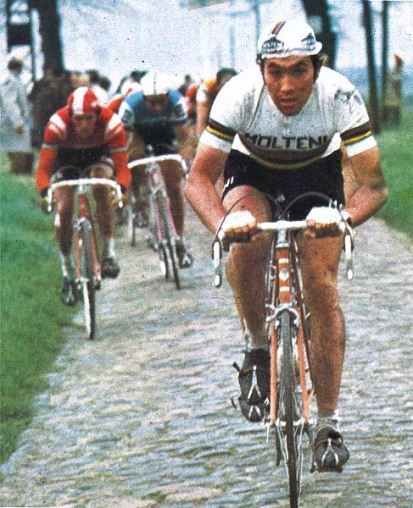 Willy Van Malderghem and Alain Santy seized an opportunity with 50 kms to go and built a 1'40" lead. De Vlaeminck chased solo and caught Malderghem entering the cobbles at Cysoing. 'The Gypsy' was untouchable from that point in the race. He rode steadily away from Malderghem and entered the velodrome with nearly a two minute lead.
Roger "the Gypsy" De Vlaeminck gained the first Paris-Roubaix victory of his career.
P-R April 16, 1972
272.5 Km, Chantilly to Roubaix (Velodrome)
1. Roger DE VLAEMINCK (Bel) 7h24'05"
2. Andre Dierickx (Bel) +1'57"
3. Barry Hoban (GBr) +2'13"
Starters: 160
Finishers: 49
Average Speed: 36.709 km/h
Return to the Timeline ToC
Return to the Race Snippets ToC