The Emperor Adds the "Queen"
1960 World Champion Rik Van Looy had parcours including all the major races except the "Queen of the Classics" Paris-Roubaix.
Attacks were plentiful the early kilometers, but the real racing waited until Pont-a-Marcq. Henry Anglade accelerated and formed an elite breakaway group that included Van Looy.
An untimely puncture by Anglade on the hill at Hem eliminated the Frenchman. A group of 6 entered the velodrome to the joy of the huge crowd.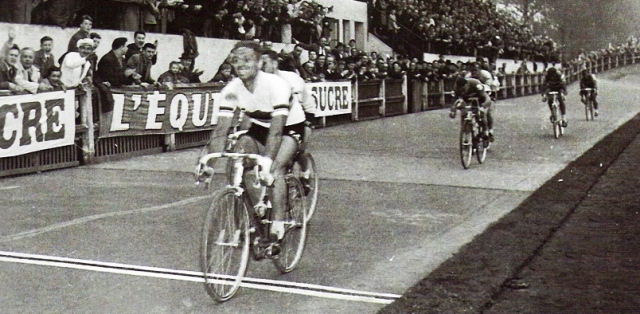 Not to be denied Van Looy dominated the sprint. "I've won it! I've won it! I've won it!!!!" cheered Van Looy.
Rik "The Emperor" Van Looy had added the missing one of cycling's 5 Monuments to his stellar parcours.
P-R April 9, 1961
262 Km, St. Denis (north of Paris) to Roubaix (Velodrome)
1. Rik VAN LOOY (Bel) 6h19'09"
2. Marcel Janssens (Bel)
3. Rene Vandervecken (Bel)
Starters: 162
Finishers: 121
Average Speed: 41.620 km/h
Return to the Timeline ToC
Return to the Race Snippets ToC