By Barry Boyce, CyclingRevealed Historian
Lapize Again!
A record number of starters (144 riders) came to the line in Chatou. The elites of the race dueled steadily until pre-race favorite Frans Faber (Lux) became tired and crashed into a ditch. The lead group was down to four at the entrance of the velodrome.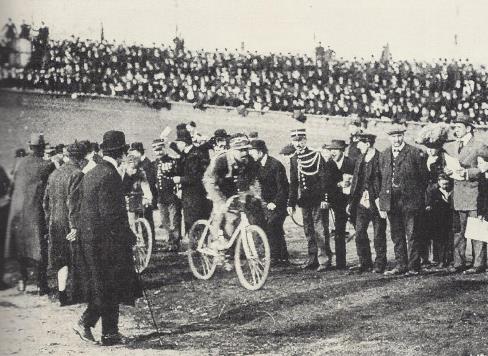 Van Hauwaert led Lapize into the velodrome
With six laps of the track to go, Cyrille Van Hauwaert set a strong pace, leading for 5 of the 6 closing laps of the track. Around the final bend Lapize powered past a tiring Van Hauwaert for his second straight Paris-Roubaix victory.
P-R March 27, 1910
266 Km, Chatou (west of Paris) to Roubaix (Rue Verte, Criox)
1. Octave LAPIZE (Fra) 9h15'12"
2. Cyrille Van Hauwaert (Bel)
3. Eugene Christophe (Fra)
Starters: 144
Finishers: 74
Average Speed: 29.274 km/h
Return to the Timeline ToC
Return to the Race Snippets ToC