By Barry Boyce, CyclingRevealed Historian
New Stars Provide a Great Finish
The pioneering heroes of Paris-Roubaix were retiring and new stars of cycling were emerging. A dominating performance by Hyppolite Aucouturier (Fra) was over shadowed by a late charge by Claude Chapperon (Fra), who caught Aucouturier in the shadow of the Roubaix Velodrome.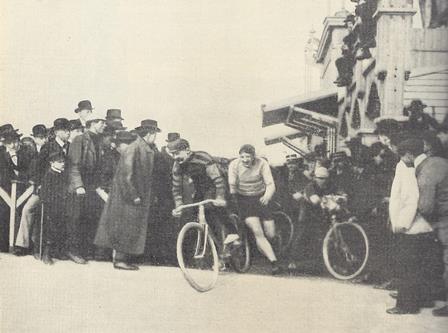 Bike change at the Velodrome enterance, Aucouturier leading Chapperon
By tradition riders stopped to exchange bike at the entrance of the velodrome in order to complete the final 6 laps of the track. Chapperon entered the velodrome with a 50 meters lead and hastily grabbed the wrong bike. Quickly he returned for his own bike and was passed by Aucouturier. Anxiously Chapperon chased but couldn't catch Aucouturier. The P-R glory belonged to Hyppolite 'the Terrible' Aucouturier (Fra).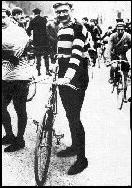 Aucouturier

P-R April 11, 1903
268 Km, Chatou (west of Paris) to Roubaix (Rue Verte, Criox)
1. Hyppolite AUCOUTURIER (Fra) 9hr12'30"
2. Claude Chapperon (Fra) +2"
3. Louis Trousselier (Fra) +39"
Starters: 51
Finishers: 27
Average Speed: 29.104 km/h
Return to the Timeline ToC
Return to the Race Snippets ToC