Inspired Italian Reclaims Milan-San Remo
The stars of cycling were ready for an all out battle in 1990 Milan-San Remo. A determined group of Italian riders came to reclaim the dwindling respect of their beloved tifosi. No Italian had won La Primavera since Francesco Moser's victory in 1984.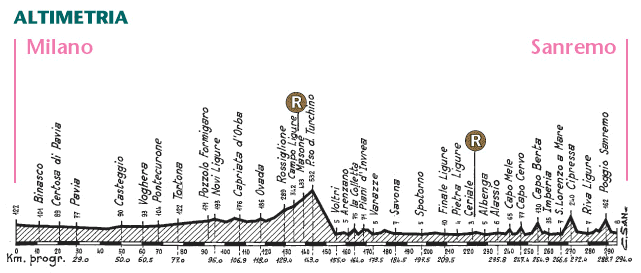 *Race profile courtesy of Internet site: www.econ-outlook.com.au/tom/cycling/palmares.html
The race left Milan with a very strong cross wind that created havoc in the 213 rider peloton. Forty kilometers into the race echelons formed and the field was split. Defending champion Laurent Fignon, Greg LeMond, and Sean Kelly were among the rider caught out by the wind.
Quickly the Italian driven breakaway gained two minutes. As panic hit the trailing group Belgian team Weinmann began a hard chase. Over the summit of the Turchino Pass the chasers were still losing time and the impetus went out of the group. At the halfway mark of the race the lead was 15 minutes. The 100 rider, star laden group all abandoned.
The 120 riders in the breakaway continued their rapid pace into the closing kilometers. Near the Capo Berta with 30 kms to go, Gianni Bugno launched the first attack. Young Angelo Canzonieri was the only one to react in time to go with Bugno.
After several failed chase groups Bugno dropped Canzonieri and hit the base of the final climb alone. The Poggio is normally the launching pad for victory. Bugno increased his effort and held 12 second lead on six chasers over the summit.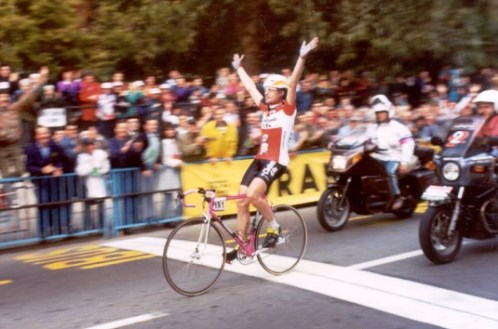 The inspired Gianni Bugno held off the late charge of German Rolf Golz and rode down the Via Roma in San Remo for a brilliant victory.
SPECIAL NOTE: Bugno's brilliant victory broke Eddy Merckx's 1967 record average speed of 44.805 km/h.
M-SR March 17, 1990
294 Km
1. Gianni BUGNO (Ita) 6h25'06"
3. Gilles Delion (Fra) +23"
Starters: 213
Finishers: 110
Average Speed: 45.806 km/h Record Speed
Return to the Timeline ToC
Return to the Race Snippets ToC