The Man Who would be King
Irishman Sean Kelly was nicknamed the "New" Cannibal (after Eddy Merckx) for insatiable appetite for victory. BUT one race missing from his palmares was 'La Primavera' Milan-San Remo. By winning the 1986 Milan-San Remo the New Cannibal added his fourth "Monument" victory of his illustrious career.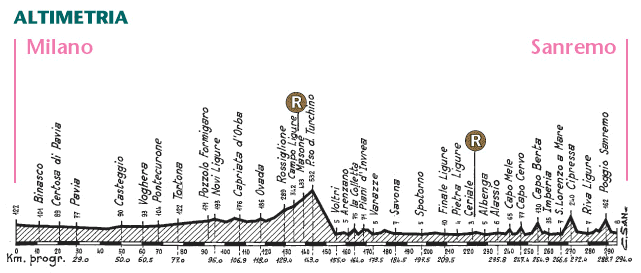 *Race profile courtesy of Internet site: www.econ-outlook.com.au/tom/cycling/palmares.html
A five rider breakaway, Steve Bauer, Marc Madiot, Steven Rooks, Ad Wijnands, and Giuseppe Petito, entered the closing kilometers of the 293 km race with a small gap. Bauer set a strong pace up the final climb but the group was caught on the Poggio. The race had less than 6 kms to go and little known Italian Mario Beccia counter-attacked past the Bauer group. Greg LeMond attentively jumped to Beccia's wheel. The two gain 30 meters when Sean Kelly exploded from the chase group and caught LeMond and Beccia.
Immediately Kelly went to the front and opened the gap from 50 to 200 meters. The Irishman, a noted descender, plunged off the Poggio with LeMond and Beccia holding on to Kelly's wheel.
Kelly opened the sprint coming around Beccia with LeMond close behind. The "King" accelerated along the left barriers and crossed the finish line freewheeling with his hands in the air. The Milan-San Remo victory was his.
SPECIAL NOTE: For reasons of traffic flow, the long time finish on the Via Roma (which had been the finish since 1949) was moved to Corso Cavalotti.
M-SR March 15, 1986
293 Km
1. Sean KELLY (Irl) 6h57'19"
Starters: 233
Finishers: 112
Average Speed: 42.127 km/h
Return to the Timeline ToC
Return to the Race Snippets ToC