By Barry Boyce CyclingRevealed Historian
Out of the Crowd Comes Roger De Vlaeminck
The 1980 Milan-San Remo was run under cloudy and cold weather in Milan and brilliant sunshine on the "Via Roma" in San Remo.

A twelve rider breakaway escaped over the Cipressa and rode aggressively on the flat roads leading to the final climb of the Poggio.
The 65 rider peloton caught the breakaway and hit the "Via Roma" in full flight. Belgian Roger de Vlaeminck (Gis Gelati) jumped hard out of the pack and cruised across the finish line for the prestigious victory.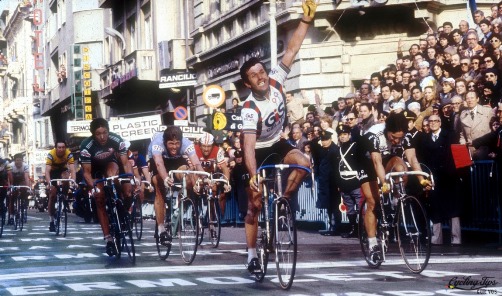 M-SR March 17, 1979
288 Km
1. Roger DE VLAEMINCK (Bel) 7h05'44"
2. Giuseppe Saronni (Ita)
Starters: 264
Average Speed: 40.588 km/h
Return to the Timeline ToC
Return to the Race Snippets ToC