By Barry Boyce CyclingRevealed Historian
Eddy Merckx and Team Molteni
Belgian Eddy Merckx, Milan-San Remo champion in 3 of the last 5 years, lamented last opportunities from last year's race. Merckx said the early breakaway was given too much leeway and Michele Dancelli solo effort earned the victory in 1970. The plan this year was to be more vigilant.

Heavy rain and cold temperatures kept the peloton together onto the Mediterranean coast. Whne the race entered Varazze (120 kms to go) Merckx's Molteni team shattered the large peloton with a hard pace. Felice Gimondi forced a small breakaway but 2 Molteni rider wouldn't contribute to the pace. Merckx brdged up to the group.

The group approached the final launching pad, the climb of the Poggio. Molteni's Joseph Bruyère and Joseph Spruyt attacked the climb with Gimondi and Merckx in tow. Near the summit Merckx jumped past Gimondi and plunged down the twisting descent into San Remo.
Quickly the Cannibal's lead went from 10 sec. to 30 sec. and the Belgian crossed the finish line for the prestigious M-SR victory.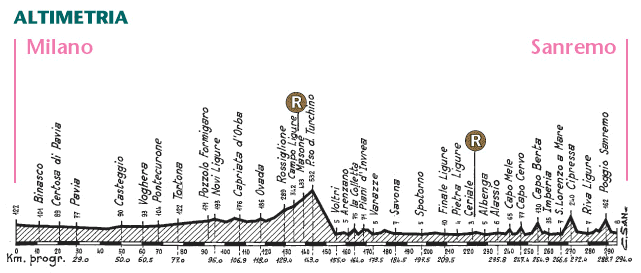 *Race profile courtesy of Internet site: www.econ-outlook.com.au/tom/cycling/palmares.html
M-SR March 19, 1971
288 Km
1. Eddy MERCKX (Bel) 7h21'20"
2. Felice Gimondi (Ita) +30"
3. Gosta Pettersson (Swe)
Starters: 172
Average Speed: 39.152 km/h
Return to the Timeline ToC
Return to the Race Snippets ToC