Privat Prevails
The first breakaway of the day saw Cleo Maule (Ita) and Rizzardo Brenioli (Ita) and Joseph Vloebergs (Bel) escape at the 15 km mark of the race. The group gained two minutes by 45 km. With the race proceeding at a rapid pace another five Italians joined the leaders at Tortona.
The final selection came at Pozzolo Formigare at the 92 km mark when twelve men went clear of the peloton. Within 12 kms the elite chase group caught the lead eight on the lower slopes of Passo Turchino. British star Tommy Simpson attacked on the climb and rode solo over the summit.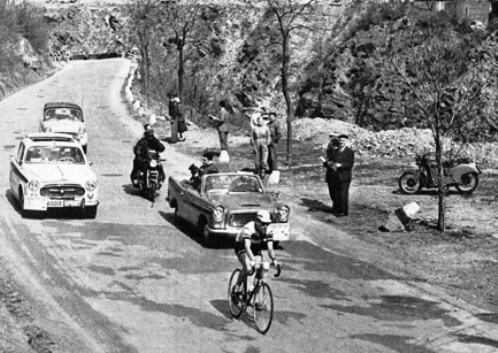 Simpson held a 1'45" lead but the chase group was closing quickly but the number of riders was dwindling. The capture of Simpson came 45 kms later at the start of the Capo Breta. The lead group was down to 7 riders. Sensing a weakness in the breakaway group Rene Privat (Fra) attacked. The move was unsuccessful and Privat would have to wait for the new addition to the race, the climb of the Poggio.
SPECIAL NOTE: The late in the race climb of the Poggio was introduced in 1960 in an attempt to stop the race from ending each year in a sprint finish! Italian star Gastone Nencini was the first rider over the Poggio in its first year of use.
Over the Poggio Privat jumped from third position and launch his final race winning attack. Behind the breakaway the Faema team led the chase for Belgian sprinter Rik Van Looy. Jean Graczyk (Fra) drove the pace the peloton off the lower slopes of the Poggio and inched slowly away from the chase group.
Frenchman Rene Privat (Mercier-BP) would not be caught and rode down the "Via Roma" in San Remo to gain the prestigous 1960 Milan-San Remo by 11 seconds. Fellow countryman Jean Graczyk broke away from the chasers and soloed into San Remo.
SPECIAL NOTE: Graczyk finished in second place, but some say if he had not taken a wrong turn near the finish, he may have caught Privat and stolen the victory.
M-SR March 19, 1960
288 Km
1. Rene PRIVAT (Fra) 6h45'15"
2. Jean Graczyk (Fra) +11"
3. Yvo Molenaers (Bel) +20"
Starters: 203
Finishers: 121
Average Speed: 42.640 km/h (New Record)
Return to the Timeline ToC
Return to the Race Snippets ToC