By Barry Boyce, CyclingRevealed Historian
Mara Sprints to Victory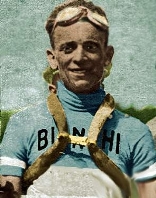 Michele Mara
There was rain at the start in Milan, but that did not slow the 143 rider peloton. Following the "preme-sprints" (cash prizes awarded for sprints in the villages along the race route) across the plains of Lombardia, the peloton began to split over the climb of the Turchino Pass. Antonio Negrini took the "climbing-preme" at the summit and drove the pace downward toward the coast. A 14 rider group formed along the Italian Riviera as the weather turned sunny.
When the breakaway entered San Remo Bianchi's Michele Mara launched a great sprint to take the prestigious Milan-San Remo victory.
M-SR March 30, 1930
287 Km
1. Michele MARA (Ita) 9h43'00"
3. Domenico Piemontesi (Ita)
Starters: 143
Finishers: 77
Average Speed: 29.485 km/h
Return to the Timeline ToC
Return to the Race Snippets ToC