Speculation of Controversy?
The scenery that surrounds the Giro di Lombardia race course is impressive. From the deep blue waters of Lake Como to the magnificent mountain passes and difficult descents, the "Race of the Falling Leaves" always provided a spectacular finish to the elite racing season.
The 80th edition of the Giro di Lombardia provided drama beyond the excitement of the race. The organizers, searching for a tougher course, added two tough mountain climbs just before the flat 70 km run-in across the plains of Lombardia into Milan.
The pace was fast from the beginning. Through the first climb to the Madonna del Ghisallo pre-race favorite Gianni Bugno crashed and lost time. Contenders Adri Van der Poel, Silvano Contini and Ludo Peeters were dropped from the peloton and did not recover.
When the race arrived at the first of the two new climbs, the steep 13 km Valico Valcava, there was an eleven rider breakaway led by Frenchman Laurent Fignon. The Frenchman cracked on the climb sending the breakaway into disarray. Over the summit four riders, Sean Kelly, Gian Baronchelli, Flavio Giusepponi, and Kelly teammate Acacio De Silva, re-grouped with four more riders chasing.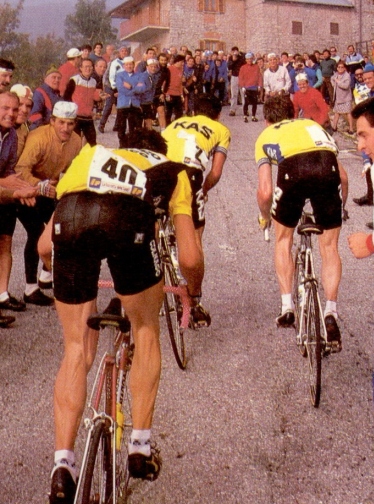 De Silva leads teammate Sean Kelly and Gian Baronchelli over the Valico Valcava
Immediately after the Valico Valcava climb the 8 km Colle di Valpiana climb, the last major difficulty of the race, twisted across the hillside. De Silva drove the pace on the ascent with Kelly sitting second wheel. The group was now six riders strong as the descent began.
The breakaway extended there lead to over seven minutes as the team tactics entered the picture. Baronchelli (Del Tongo-Colnago) dropped back to talk with his director. Shortly after Kelly (KAS) had a long conversation with his director and returned to tell De Silva (KAS) something.
| | |
| --- | --- |
| Kelly talks with team director De Gribaldy | Kelly telling De Silva the plan |
The race took controversial twist when Baronchelli (Del Tongo-Colnago) attacked inside 5 km to go and no one chased. When the Italian went under the 1km banner he had a 200 meter gap and would not be caught. Thousands of cheering fans packed the Plaza di Duomo in Milan to witness Gianbattista Baronchelli cross the finish line for the victory.

Gianbattista Baronchelli win the "Race of the Falling Leaves"
Speculation began to swirl after the race. True or untrue, the rumor that held the most credence was that a special deal was struck to have an Italian win. The controversial rumors were never confirmer and everyone involved stated, "the rider who won wanted it more than the other."
With a grand smile Gianbattista Baronchelli received all due accolades as the winner of the 1986 Giro di Lombardia.
GdL October 18, 1986
262 Km, Como-Milan (Piazza di Duomo)
1.Gianbattista BARONCHELLI (Ita) 7h01'07"
2. Sean Kelly (IrI) +15"
3. Phil Anderson (Aus)
Starters: 168
Finishers: 31
Average Speed: 37.329 km/h
Return to the Timeline ToC
Return to the Race Snippets ToC