Bernard HINAULT
The 73rd edition of the Giro di Lombardia was held on October 13, 1979.

Putting the negative problems from the 1978 Giro di Lombardia behind him, Bernard Hinault returned to the 1979 Lombardia start in Milan. This year Hinault changed his passive tactics and went with an early 7 rider group through the first feed zone with a long 150 km to go.

The pre-race favorites, defending champion Francesco Moser and Giuseppe Saronni among them, considered the move madness and did not follow Hinault.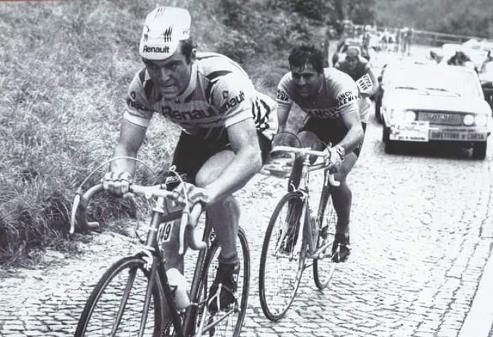 Hinault (L) increasing the tempo with Contini (R) close behind
As the climb of the Val d'Intelvi started, 60 kms from the finish, the breakaway had four minute gap on the Moser and Saronni chase group. On the climb Hinault increase the tempo and rode over the summit with only Silvano Contini (Ita) in tow.
The pair flew into Como for the final sprint. An inspired Bernard Hinault led out the sprint and held off a tiring Contini for the 1979 Lombardia victory. The group of pre-race favorites rolled in 3'20" later.
GdL October 13, 1979
249 Km, Milan-Como
1. Bernard HINAULT (Fra) 6hr13'25"
2. Silvano Contini (Ita)
3. Giovanni Battaglin (Ita) +3'20"
Starters:

159
Finishers: 28
Average Speed: 40.008 km/h
Return to the Timeline ToC
Return to the Race Snippets ToC