Felice GIMONDI, after Merckx DQ'd
Two time defending Giro di Lombardia champion Eddy Merckx dominated in 1973. Similar to his win in 1971 Merckx attacked on the climb of the Val d'Intelvi 60 kms from the finish. No one could answer the attack. Merckx's Moltini teammates shutdown every chase group.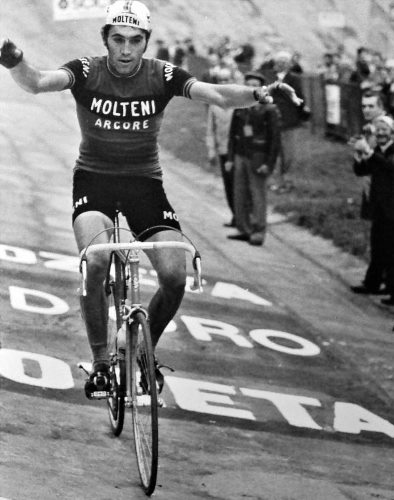 Merckx finished first in Como but was later DQ'd after a positive doping control test.
Eddy Merckx cruised over the finish line 4 min. 15 sec. ahead of 1973 World Champion Felice Gimondi. Unfortunately for Merckx his doping control test return a positive finding. World Champion Felice Gimondi was awarded the victory.
SPECIAL NOTE: Belgian superstar Eddy Merckx finished first 4'15" ahead, but was disqualified 2 months after the race for failing a doping control test. Merckx's sample revealed a doctor prescribed "over the counter" cold medication had caused a positive for the banned stimulatant norephedine. The UCI denied the Belgian's appeal.
GdL October 13, 1973
266 Km, Milan-Como
1. Felice GIMONDI (Ita) 7h07'42"
2. Roger De Vlaeminck (Bel)
3. Herman Van Springel (Bel)
Starters:

144
Finishers: 22
Average Speed: 37.315 km/h
Return to the Timeline ToC
Return to the Race Snippets ToC