Diego RONCHINI
The 51st edition of the Giro di Lombardia was held on October 20, 1957 under rainy and cold weather conditions.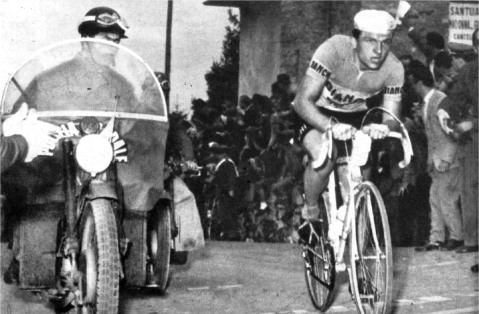 Bianchi-Pirelli's Diego Ronchini going over the Ghisallo Pass
Bianchi-Pirelli's Diego Ronchini crossed the summit of the Ghisallo Pass alone. He was joined by Bruno Monti (Atala) and Aurelio Cestari (Lygie) on the descent. In Milan the trio contested the sprint. Diego Ronchini sprinted around Monti and Cestari to claim the 1957 Lombardia victory.
GdL October 20, 1957
240 Km, Milan-Milan (Vigorelli Velodrome)
1. Diego RONCHINI (Ita) 6h09'45"
2. Bruno Monti (Ita)
3. Aurelio Cestari (Ita)
Starters:

69
Finishers:

44
Average Speed: 38.945 km/h
Return to the Timeline ToC
Return to the Race Snippets ToC