L-B-L Slips away from Lance
Defending Liege-Bastogne-Liege champion Mauro Gianetti (Sui) returned to face a stellar field of riders in 1996. Pre-race favorite Lance Armstrong (USA), who was the winner of the Fleche Wallone several days earlier, made the crucial three-rider breakaway with 35 km to the finish. Along with Armstrong and Gianetti Swiss rider Pascal Richard completed the final selection.
Armstrong's move came just past the top of the climb of Cote de la Redoute while the peloton was recovering from a rapid tempo. Only Richard and Gianetti could hold Armstrong's wheel.
On the final 4 km climb to the finish in Ans the three lead riders marked each other very closely. Gianetti launched a furious attack at 1200 meters to go, but was neutralize by Armstrong. Then Richard attacked under the 1 km flag with Armstrong again doing the work to close the gap. Through the left-hand turn at the top of the climb, 250 meters from the line, Armstrong attacked into the headwind. A perfectly placed Pascal Richard caught and jumped past him with 25 meters to go. Pascal Richard (Sui) sprinted past American Lance Armstrong to win the 263 km Liege-Bastogne-Liege Classic.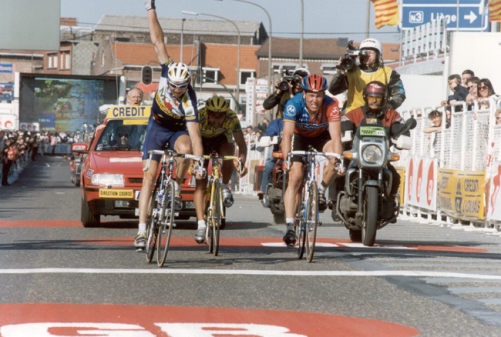 (L) Richard 1st, (C) Gianetti 3rd, and (R) Armstrong 2nd
Lance Armstrong told L'Equipe after the race: "I committed a big error in the final stretch. I should have eased off my effort on the final climb to Ans and let the other two make part of the tempo. It's because I was feeling too confident. Even in the sprint, I was sure of winning."
SPECIAL NOTE: After winning Fleche Wallone and placing second at L-B-L Lance Armstrong won the "Trophee Week End Ardennais". The award is given to the best placed rider in the Ardennes Double: 1. Armstrong 3 points, 2. Gianetti 7 points, 3. Richard 15 points.
L-B-L April 21, 1996
263 Km
1. Pascal RICHARD (Sui) 6h58'02"
2. Lance Armstrong (USA)
3. Mauro Gianetti (Sui)
Starters: 188
Finishers: 53
Average Speed: 37.750 km/h
Return to the Timeline ToC
Return to the Race Snippets ToC