Suspense and Controversy
The brutal climb of the Cote de la Redoute provided the suspense and ultimate controversy for the 1985 Liege-Bastogne-Liege. The steep and winding La Redoute is one of the vital stages of the race and provides a launching pad for climbers to shed strong sprinters.
The controversy entered the results after a suspenseful race. The saga began on the climb of the La Redoute. Solo race leader Rudy Dhaenens was getting caught the race entourage-traffic. A long line of press vehicles and photographers, following the breakaway, were slowed on the narrow and winding La Redoute by a huge crowd rubber necking fans to gain a view of the riders. The lead motorcycles nearly came to a stop near the summit.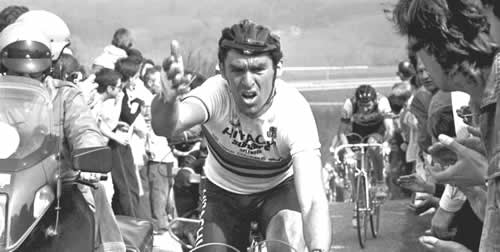 World Champion Claude Criquielion caught in the "traffic jam" on the La Redoute
Belgian Claude Criquielion and Stephen Roche attacked to avoid the chaos. In the pack Phil Anderson hit a stopped motorcycle and fell. Sean Kelly was keep from falling by spectators. Barely missing Anderson young Italian Moreno Argentin slalomed through the slowed motorcycles and bridge to the two leaders.
The general confusion caused the peloton to break into small groups. The three leaders opened a 20 second gap. A strong chase group could only take back 5 seconds over the next 10 kms. At the base of the final climb the chasers, led by Anderson, were closing. Criquielion animated the break by attacking on the climb. Roche and Argentin answered the move, but the lead was down to 8 seconds.
Over the summit there were 10 kms of descending into Liege and the three leaders worked well together but the gap was slowly closing. Onto the Boulevard de la Sauveniere the five pursuers could nearly touch the back of the leaders.
Belgian Criquielion desperately wanted the win and lead out the sprint. Patiently Argentin waited and jumped past Criquielion for the victory. For Moreno Argentin this was his first major international victory of his career.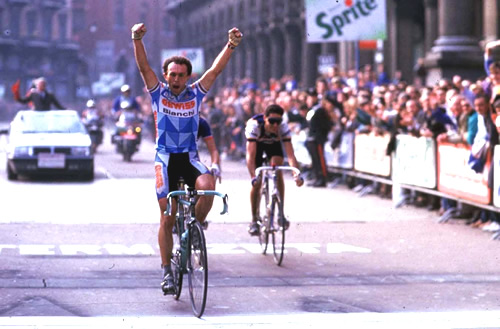 ARGENTIN!!!!
SPECIAL NOTE: The speed and fierceness of the race over the final 25 kms that the next group of elite riders were over two and a half minutes behind.
L-B-L April 21, 1985
245 Km
1. Moreno ARGENTIN (Ita) 6h37'22"
2. Claude Criquielion (Bel)
3. Stephen Roche (Ire)
Starters: 191
Finishers: 85
Average Speed: 36.982 km/h
Return to the Timeline ToC
Return to the Race Snippets ToC