By Barry Boyce, CyclingRevealed Historian
Ockers Wins "Le Weekend Ardennais"

Belgian superstar Stan Ockers won the 1955 "Le Weekend Ardennais" first accomplished by Ferdi Kubler two years earlier. The Liege-Bastogne-Liege victory came with a minor controversy. Having won Le Fleche Wallone the day before L-B-L Ockers agreed to let teammate and "Liege eternal second" Raymond Impanis win his first L-B-L. After a series of attacks the teammates broke clear with Impanis leading into the last km. Disregarding the agreement Ockers sprinted past his teammate to take the L-B-L victory and complete the Ardennes double.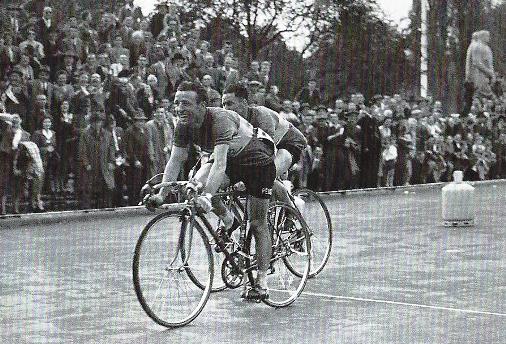 L-B-L May 1, 1955
238 Km
1. Stan Ockers (Bel) 6h50'58"
2. Raymond Impanis (Bel)
3. Jean Brankart (Bel) +44"
Starters: 116
Finishers: 35
Average Speed: 34.750 km/h
Fleche Wallone April 30, 1955
220 Km [ Charleroi to Liege ]
1. Stan OCKERS (Bel) 6h12'20" *
2. Alphonse Vandenbrande (Bel) +2'46"
3. Stanislas Bober (Fra)
Starters: 119
Finishers: 59
Average Speed: 35.450 km/h
Return to the Timeline ToC
Return to the Race Snippets ToC