Museeuw Wins Solo from the Tenbosse!
SPECIAL NOTE: The organizers changed the start of the race from Sint-Niklaas to the northern coast in the City of Brugge.
April 5, 1998 was an inspired day for Belgian Johan Museeuw. Despite suffering several mechanical problems and punctures Museeuw used his strong Mapei team to regain the leaders every time.
1992 Ronde champion Jacky Durand made the first serious attack of the race. The Frenchman escaped on the early climb of the Taaienberg. After a hard chase the leaders were back together over the Berendries with 33 kms to the finish.
At the start of Tenbosse (aveage 11% with a max 14%) Museeuw caught and passed a solo Hendrik van Dijck. The Belgian quickly built a 30 second lead and extended the gap as he crossed the Muur de Grammont solo with a 1'05" advantage.
Museeuw pounded a huge gear (53x11!) over the Bosberg with 13 kms to the finish and held a 1'02" lead. A strong group of 7 riders put the pressure on the solo breakaway and closed the gap to 900 meters at the 5 km marker.
Museeuw was very strong and rounded the final corner in Ninove with a 43 second lead. The brilliant ride by Johan Museeuw was rewarded with his third Ronde van Vlaanderen victory.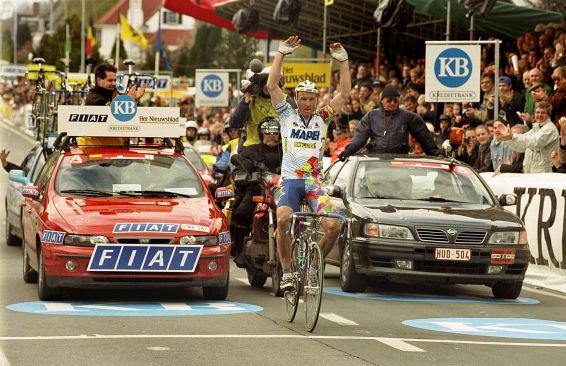 Mapei teammate Stefano Zanini took the sprint for second place 43 seconds behind the winner.
SPECIAL NOTE: Johan Museeuw's third victory tied him with Flanders legends Achiel Buysse, Fiorenzo Magni and Eric Leman for the most Ronde victories.
Flanders April 5, 1998
277 Km, Brugge to Meerbeke/Ninove
1. Johan MUSEEUW (Bel) 6h50'02"
2. Stefano Zanini (Ita) +43"
3. Andrei Tchmil (Bel)
Starters: 245
Finishers: 74
Average Speed: 40.533 km/h
Return to the Timeline ToC
Return to the Race Snippets ToC