A Geraardsbergen Treat for Bartoli
SPECIAL NOTE: One team had problems prior to the race even starting. Team Banesto's bikes were stolen Saturday and the team was regretfully forced to withdraw from the race.
For the 185 cyclists who did start the 80th Tour of Flanders the fireworks started early in the race. Eric De Clercq and Mauro Bettini escaped at the 82 km mark and reached the first of 16 climbs, the Tiegemberg, with 4'30" lead.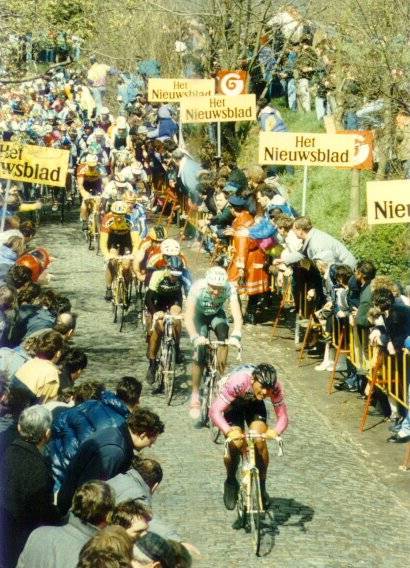 There was a general regrouping in Maarkedal when the lone survivor of the early move was captured. The leaders aggressively attacked the Berendries and the Valkenberg and formed an elite breakaway of 9 riders. As the race approached the City of Geraardsbergen Peter Van Petegem and Beat Zberg bridge the gap to the breakaway to complete the make-up of the final selection.
Belgian favorite Johan Museeuw had a mechanical problem on the Muur de Grammont and lost contact with the 10 other leaders. Michele Bartoli seized the opportunity and attacked over the summit.

Elite group chasing a solo Bartoli on the Bosberg
By the climb of the famed Bosberg 4 km later a solo Bartoli had built a 58 second lead. The Italian cruised into Meerbeke/Ninove for the prestigious victory. Bartoli's teammate Fabio Baldato took the sprint for second place ahead of Johan Museeuw.
Flanders April 7, 1996
267 Km, St. Niklaas to Meerbeke/Ninove
1. Michele BARTOLI (Ita) 6h31'27"
2. Fabio Baldato (Ita) +55"
3. Johan Museeuw (Bel)
Average Speed: 40.921 km/h
Return to the Timeline ToC
Return to the Race Snippets ToC