Young Belgian Superstar Emerges
SPECIAL NOTE: The Ronde organizers re-designed the race route to increase from 13 to 16 the number of "bergs" to climb.
The penultimate breakaway of the 1993 Ronde van Vlaanderen escaped with 75 km to the finish in Meerbeke. An eight rider group was led by two time Ronde champion Edwig Van Hooydonck and included Frans Maasen, young Belgian Johan Museeuw, Franco Ballerini, Mauricio Fondriest and Marc Sergeant. Dario Bottaro and Maximillian Sciandri joined them later.
The breakaway worked well together and opened a 2'30" gap. When the group reached Brakel with 28 kms to go, Johan Museeuw launched an attack. Dutchman Frans Maasen, a Van Hooydonck teammate, covered the move for his team leader. Museeuw doing all the work opened a 30 second advantage over the remainder of the lead group.
Museeuw attempted to shed Maassen and drove a brutal pace up the Muur de Grammont. An attentive Maassen was able to answer Museeuw's move and counter-attacked just over the Bosberg, only 13 kms from the finish. A tiring Museeuw struggled but held Maassen's wheel.
Maassen's move extended the time gap to the chasers as the breakaway turned onto the finishing straight together. Johan Museeuw easily sprinted past the Dutchman to win an impressive Ronde van Vlaanderen victory.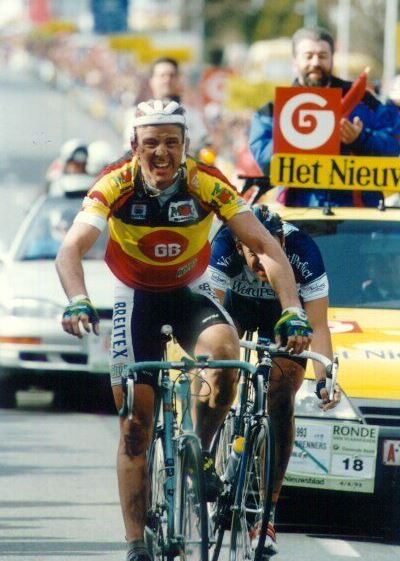 Destined for superstardom Museeuw won his first Ronde championship.
Flanders April 4, 1993
263 Km, St. Niklaas to Meerbeke/Ninove
1. Johan MUSEEUW (Bel) 6h33'00"
2. Frans Maassen (Ned)
3. Dario Bottaro (Ita) +22"
Starters: 177
Finishers: 99
Average Speed: 40.305 km/h
Return to the Timeline ToC
Return to the Race Snippets ToC