Bosberg Breakaway
The experts picked their favorites for the 73rd Tour of Flanders: Rik Van Looy confidently picked defending champion Eddy Planckaert; Eddy Merckx selected 1986 champion Adri Van der Poel; and Rik Van Steenbergen waffled saying either Van der Poel or Planckaert would win.
Nasty Flemish weather with slippery corners cause havoc from start to finish. The decisive move of the race came on the Muur de Grammont when 7-Eleven's Dag-Otto Lauritzen made a solo bid on the Muur de Gammont, only Edwig Van Hooydonck stayed with the attack. On the Bosberg, the 12th and final climb before the finish, Edwig Van Hooydonck attacked with amazing power. Through a heavy rain the chase struggled to close on the lone leader and Van Hooydonck rode across the finish line 22 seconds ahead of second placed Herman Frison.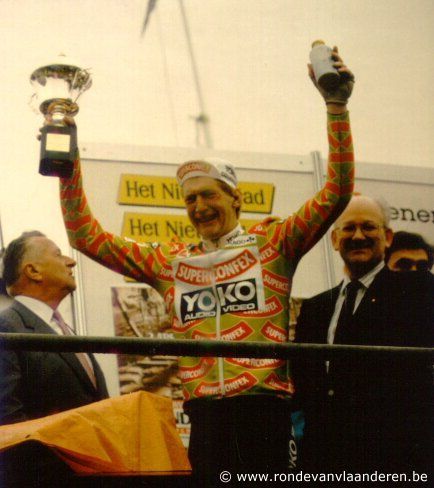 The 22 year old Belgian emotionally accepted the accolades of his first Flanders victory. To Van Hooydonck winning Flanders was more than just another win, it was the biggest victory of his young life.
Flanders April 2, 1989
264 Km, St. Niklaas to Meerbeke/Ninove
1. Edwig VAN HOOYDONCK (Bel) 7h01'00"
2. Herman Frison (Bel) +22"
3. Dag-Otto Lauritzen (Nor)
Starters: 170
Finishers: 77
Average Speed: 37.623 km/h
Return to the Timeline ToC
Return to the Race Snippets ToC