De Bruyne's Revenge
A small breakaway group formed just before the Muur de Geraardsbergen.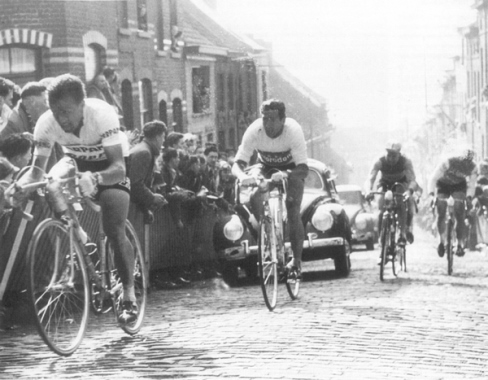 De Bruyne leading the group in Geraardsbergen
The group began to shatter under the relentless pressure of Alfred 'Fred' De Bruyne and his teammate Desire Keteleer. Young Belgian Rik Van Looy went too hard into a corner and crashed heavily trying to stay with the leaders. Van Looy chased hard but failed to reconnect, he finished seventeenth almost 2 minutes behind.
De Bruyne made no mistakes this year! De Bruyne got an excellent leadout from Keteleer and unleashed a brilliant sprint to gain the prestigious Tour of Flanders victory.
Flanders March 31, 1957
240 Km, Gent to Wetteren
1. Alfred DE BRUYNE (Bel) 5h58'00"
2. Jozef Planckaert (Bel)
3. Norbert Kerkhove (Bel)
Starters: 174
Finishers: 85
Average Speed: 40.222 km/h
Return to the Timeline ToC
Return to the Race Snippets ToC