Italian "Lion of Flanders " Dominates
The 35th edition of Tour of Flanders raced 273 km from Gent to Wetteren. Again in 1951 the weather provided the riders with miserable conditions.
Two time defending champion Fiorenzo Magni again sat on the front of the peloton all day. Using the Oude Kwaremont Magni escaped with Roger Decock, Attilio Redolfi, and Loretto Petrucci.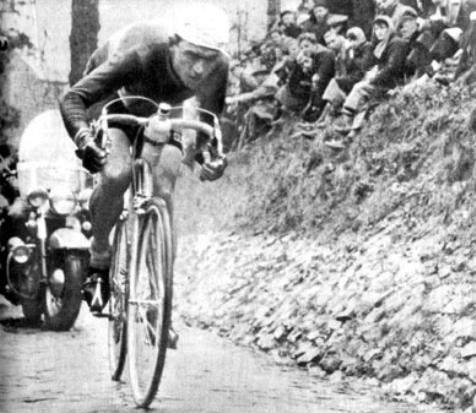 Magni alone climbing the Muur van Geraardsbergen
The powerful Italian "Lion of Flanders" rode away from a dwindling breakaway group to claim a 5 mintue plus lead. He cruised into Wetteren to claim his third Tour of Flanders victory in a row. Belgian super star Rik Van Steenbergen was 12 minutes behind in 6th place.
SPECIAL NOTE: Climbs- Kwaremont, Kruisberg, Edelareberg, Muur van Geraardsbergen.
Flanders April 1, 1951
273 Km, Gent to Wetteren
1. Fiorenzo MAGNI (Ita) 8h15'00"
2. Bernard Gauthier (Fra) +5'35"
3. Attilio Redolfi (Fra)+10'32"
Average Speed: 35.510 km/h
Return to the Timeline ToC
Return to the Race Snippets ToC