CyclingRevealed's First Impressions '08
Stage 20 - (Saturday) July 26th, Cérilly to Saint Amand Montrond, 53 km Individual Time Trial
The Hautacam Spell
Prior to this year the Tour had only finished at the top of Hautacam on three occasions. Each time the wearer of the Yellow Jersey at the end of that day was also the wearer of the Yellow Jersey in Paris . It was Miguel Indurain in 1994, it was Bjarne Riis in 1996 and it was Lance Armstrong in 2000.
This year Cadel Evans claimed the Yellow Jersey at the Hautacam summit at the end of Stage 10. Today many were wondering if the Hautacam spell would be broken. Most were betting that it would not.
The Truth Hurts
The individual time trial is not called "the race of truth" for nothing. It is just you, your bike, the terrain and the elements. Ever since Carlos Sastre stormed up the l'Alpe d'Huez on Stage 17 everyone had focussed on the 1m 34s time gain that he made on Cadel Evans.
Endless calculations by legions of 'experts' always produced the same result. By linking historical data with the relative time trialling abilities between Carlos Sastre and Cadel Evans it was clear that Evans would take back the Yellow Jersey back.
Happily life and bike racing is not all about numbers and data. They always say that wearing the Yellow Jersey gives it's wearer wings. Today Sastre enjoyed those mythical wings. He has never beaten Evans in a time trial and today was no exception. However the traditional gap between the two was significantly less. On the line Sastre was only 29 seconds slower than Evans. Evans had failed in his quest for the Tour by 1m 5s.
Sastre looking smooth and every bit a Tour champion, rode the race with a still upper body as he propelled his lithe climbers body forward. Evans put absolutely everything into his effort but his body language soon told the story. His face was a mask of agony and for almost the entire 53kms his shoulders were rocking left and right. Numbers and data be damned, the truth hurts.
Down the Line
All the way down the GC line there was a lot at stake. While most fans were focussed on the battle for Yellow, the top GC riders were also grappling for a place on the final podium. Bernhard Kohl perhaps demonstrated the tension and nervousness present amongst the riders when he stumbled and fell as he was trying to climb on to the start ramp. He banged his right arm and threw his chain off of the chainring. Luckily his helper noticed the chain problem just as Kohl was mounting his bike. Kohl, Menchov and Vande Velde produced an excellent battle in what eventually turned out to be third place on the final Tour podium for Kohl.
In parallel with the GC battle the day also produced a tremendous race for the day's race victory. When Fabian Cancellara scorched home 1m and 16s ahead of then race leader David Millar it was generally concluded that the World Time Trial Champion had carried off the day. He had not reckoned with Stefan Schumacher! The powerful German had been producing brilliant rides in the final mountain stages and his momentum continued as he played a role in breaks in the last two road stages leading up to the TT. 'Schumi' had already shown his TT prowess when he won the Stage 4 TT in Cholet . Today he confirmed his race winning form with a solid 21 second victory over Cancellara.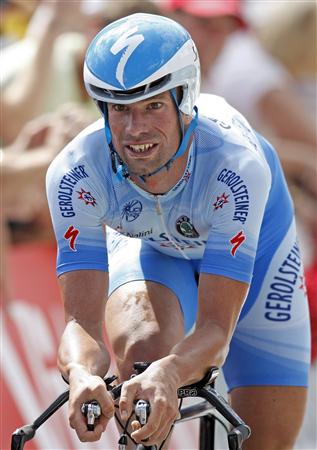 Stage winner Stefan Schumacher [ Image ©: www.gazzetta.it/AP ]
Normally we do not tabulate stage results but this TT result tells the story and of course it dictated the final overall GC standings.
| | | | | |
| --- | --- | --- | --- | --- |
| Poss. | Rider | Team | Time | Gaps |
| 1. | Stefan SCHUMACHER | GEROLSTEINER | 1h 03' 50" | |
| 2. | Fabian Cancellara | TEAM CSC | 1h 04' 11" | + 00' 21" |
| 3. | Kim Kirchen | TEAM COLUMBIA | 1h 04' 51" | + 01' 01" |
| 4. | Christian Vande Velde | GARMIN CHIPOTLE | 1h 04' 55" | + 01' 05" |
| 5. | David Millar | GARMIN CHIPOTLE | 1h 05' 27" | + 01' 37" |
| 6. | Denis Menchov | RABOBANK | 1h 05' 45" | + 01' 55" |
| 7. | Cadel Evans | SILENCE - LOTTO | 1h 05' 55" | + 02' 05" |
| 8. | Sebastian Lang | GEROLSTEINER | 1h 06' 09" | + 02' 19" |
| 9. | Bernhard Kohl | GEROLSTEINER | 1h 06' 11" | + 02' 21" |
| 10. | George Hincapie | TEAM COLUMBIA | 1h 06' 18" | + 02' 28" |
| 11. | Thomas Lövkvist | TEAM COLUMBIA | 1h 06' 19" | + 02' 29" |
| 12. | Carlos Sastre | TEAM CSC | 1h 06' 24" | + 02' 34" |
Breaking the Spell
In the same way that numbers and data do not dictate outcomes, it is also clear that superstition and legends are also not infallible. According to Tour history the fact that Cadel Evans wore the Yellow Jersey atop the Hautacam on Stage 10 gave him a huge psychological advantage. Of considerably more tangible value though was his 1m 34s lead going into the final TT. Everything seemed stacked against Sastre.
Looking back it is now clear for all to see that it was the formidable CSC team that were truly in control of affairs. Every day through the mountains they set a diabolical pace that was obviously draining the reserves of all of their adversaries. Through brilliant team work they quite simply broke the Hautacam spell.

Carlos Sastre held the YJ and broke the spell [ Image ©: www.gazzetta.it/AP ]
Return to ToC >>> Previous Stage >>> Next Stage >>>